Tour the farm
The Iwig Family Dairy, 3320 SE Tecumseh Road in Tecumseh, is open for tours on several upcoming dates. Members of the public can meet cows and calves, see the bottling process and shop at the farm store.
Upcoming tours are planned for 1:30 p.m. July 27, 11 a.m. and 1:30 p.m. Aug. 15, 1:30 p.m. Aug. 31, 11 a.m. and 1:30 p.m. Sept. 12, and 11 a.m. and 1:30 p.m. Sept. 28. Cost is $5 per person.
Find more information online at iloveiwig.com. Call 785-379-9514 to reserve space and get directions.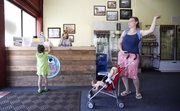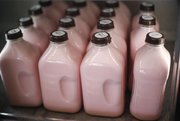 When his father and uncles ceased their milking operation on the family dairy farm in 1972, Tim Iwig embarked on his own one-boy fresh-milk enterprise.
Then only 12 or 13, he kept several heifers, milked them daily and recruited customers. Even if no one was home, they could pull into the driveway, walk into the barn, leave their money in a pan and take their milk home.
Anymore, you'd be hard-pressed to get your hands on a gallon of raw milk.
But Iwig — who eventually revived larger scale production on the same family farm — has opened a Lawrence store selling milk that's about as close as you can get in quality, freshness and flavor to what his driveway customers enjoyed years ago.
Iwig's milk, butter and ice cream have attracted an almost cult-like following in Topeka, where he opened his first retail store two years ago. In hopes of repeating and exceeding success there, he opened the Lawrence Iwig Family Dairy Store at 1901 Mass. this spring.
In addition to milk and dairy products, the store carries a small selection of other, all-local meat, bread, vegetables and canned items — enough to pull together a meal.
Since the milk travels straight from Iwig's farm in Tecumseh, there's a good chance the bottle you get was milked the same morning or the previous evening. The butter and ice cream (Iwig's own recipe) are all made on the farm, as well.
"You can't beat it," said Christine Hartwell-Jerby, an east Lawrence resident.
Hartwell-Jerby said she stops at Iwig for ice cream, butter, milk or all of the above each time she visits the Dillons pharmacy, one door down from Iwig.
"It's great having this store here," she said. "It's convenient."
Iwig hopes his retail store catches on with more Lawrencians.
When his dairy faced foreclosure in 2010, he sold shares in the company and opened the Topeka store, which was "hugely successful" but not enough to support the dairy on its own, he said.
Iwig's isn't the only dairy struggling. Unpredictable weather, increasing fuel and feed costs and low milk prices have been hammering at small dairy farmers nationwide for years.
In this area, the Flory family of Lone Star quit milking in March after more than 60 years of dairying. In New England, two-thirds of the area's dairy farms have closed in the past 30 years, a predicament that spawned the fair-trade inspired Keep Farms Local movement, the Associated Press recently reported. The program signs up colleges, universities (including Harvard University) and other entities to charge a little more for milk, with the extra money going to regional farmers.
If Iwig's Lawrence store could double Topeka's sales, as projected, it would lead to profitability, he said. But so far, that hasn't happened, though Iwig isn't sure why.
"Lawrence has not flocked to our store the way Topeka does," he said. "If we're going to stay in business, we need people to come to us and buy retail."
Checkers and Dillons used to carry Iwig's milk, but he pulled out of them in hopes of driving more business to the Lawrence retail store. Also, he said, he loses a significant portion of his profit to the middle-man when selling through grocery stores.
Iwig's milk is still available through the Merc and Hy-Vee, both of which serve different neighborhoods than the 19th and Massachusetts store.
Iwig continues to stick to a number of farming principles he believes make his milk better and safer, though they cost him more.
For one, he uses vat pasteurization. This low-temperature method takes longer and costs more than the quick, high-heat pasteurization that almost all other dairies use, but Iwig believes it results in a product with flavor and nutrients closer to that of raw milk — and with better flavor one of his milk's signatures, that's important.
He raises some of his own alfalfa and purchases some from outside sources, none of it treated with Roundup — a name-brand herbicide prevalent in many alfalfa growing operations.
"We just draw the line," Iwig said. "Lawrence doesn't want that."
Also, he does not inject his cows with any hormones.
That's because it's better for his livestock, he said. He's milking 50 to 60 cows right now, which he raised from calves, and they all have names just like pets.
Iwig regularly offers tours of his dairy and said he's looking to get some more visibility in Lawrence.
He's thinking about bringing a calf to town so the public can see one up close, and having a presence at the farmers market, which will take updating his refrigeration truck to enable it to run and cool milk for long periods of time.
Iwig's Dairy currently sells ice cream each Thursday at the nearby Cottin's Hardware Farmers Market, 1832 Mass., and it's been popular at the store, too, especially with the recent heat.
Lawrence resident Michael Kennedy stopped in the Iwig store last week for a quart, after a few minutes perusing the cooler deciding on cookies and cream.
He'd tried Iwig's ice cream before in Topeka and was smitten.
"It was just very rich and creamy," he said, "and delicious."
Copyright 2018 The Lawrence Journal-World. All rights reserved. This material may not be published, broadcast, rewritten or redistributed. We strive to uphold our values for every story published.