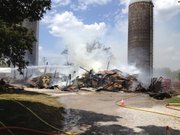 Two hay barns housing farming equipment were destroyed by a fire Tuesday afternoon, but no injuries were reported, according to a witness.
Firefighters were called about 12:45 p.m. to a report that a barn filled with hay was fully engulfed by flames.
The barns were located at 2160 N. 1150 Road, which is about two miles south of Eudora.
Several area fire departments provided support during the fire, and crews were still on scene as of 2 p.m.
Check back for more details as they develop.
Copyright 2018 The Lawrence Journal-World. All rights reserved. This material may not be published, broadcast, rewritten or redistributed. We strive to uphold our values for every story published.