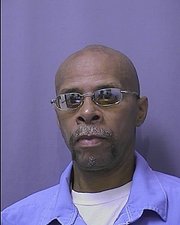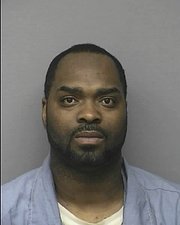 L.V. Luarks and Ronald Edwards, both convicted in Douglas County, are eligible for parole in September, along with William Jackson, convicted of robbery in Franklin County.
This week the Kansas Prison Review Board will hear public comments on all three cases, as well as for 23 other convicts eligible for release in September. Board members use input from the public and victims in the cases as part of their decision. The public also can call or mail in comments.
Here's more information about the cases:
• Luarks, 53, was convicted of second-degree murder in Douglas County in 1981. He has been paroled numerous times since 1992 – most recently in 2009 — but was sent back to prison each time following parole violations. Luarks is currently housed at the Norton Correctional Facility.
• Edwards was convicted of attempted rape, attempted sodomy, kidnapping, theft and burglary in Douglas County in 1993. Edwards, 42, has yet to be paroled on his current convictions. Edwards is currently housed at Lansing Correctional Facility.
• Jackson, 52, was convicted of aggravated robbery in Franklin County in 1992, and he is currently housed at the Hutchinson Correctional Facility.
Here's a list of the three public comment sessions:
• 10 a.m. to noon today, City Hall, 701 N. Seventh St., Kansas City, Kan.
• 8:30 a.m. to 10:30 a.m. Tuesday, Landon State Office Building, 900 SW Jackson, Topeka.
• 1:30 p.m. to 3:30 p.m. Thursday, Finney State Building, 230 E. William St., Wichita.
For full list of inmates eligible for parole and for contact information, visit http://bit.ly/N0ozJ0.
Copyright 2018 The Lawrence Journal-World. All rights reserved. This material may not be published, broadcast, rewritten or redistributed. We strive to uphold our values for every story published.