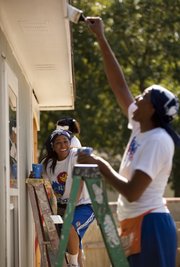 Outside an unfinished building off 19th Street, Asikat Hameed is standing in the sun. It's sweltering, of course, even in the relative cool of the morning before the three-digit temperatures hit. But never mind the oppressive heat — Ahmeed is looking around, inspecting rooms and about to start painting. Most of all, she's smiling.
"I'm just so happy," she says. "So happy and excited."
The building — its studs and roof in place — is a house that, thanks to Lawrence's branch of Habitat for Humanity, will soon become Hameed's family's home. There's still a ways to go, but each day of volunteering brings the project closer to fruition. On Saturday, the Kansas University women's basketball team, along with a few other volunteers, chipped in, working on raising walls on an outside shed and some exterior paint work.
Junior forward Tania Jackson, who is from Lawrence, was pleasantly surprised when the team, on break from summer practices, showed up at the site. The day of volunteering was extra special for her, she said, because she recognized Hameed there — Jackson went to school with her twin daughters.
"It's great to have a connection with the family we're helping," Jackson said.
Bunny Williams used a buzz saw for the first time, cutting down studs under the watchful eye of Habitat construction manager Mark Brooks and her 10 teammates. Williams, a sophomore forward, said the day of volunteering was "a good opportunity to meet people in the community and work outside with teammates."
As some players set nails and squared a shed wall, senior guard Monica Engelman painted white trim between the top of an exterior wall and its roof. She was a little mad at herself for getting paint on her "good gear" but overall happy with the chance for "helping someone out — that's rewarding. And I got to use a nail gun."
Jackson said the morning was dedicated to the family that will eventually get the house, but it's also about the collective experience for the team.
"We know how to take it seriously but also have fun," she said.
Hameed said she appreciated working with all the volunteers who have given their time to the house. She's been hoping for the build to become a reality since 2008 and now is looking forward.
"I can't wait to see it done," she said. "It will just be so nice."
Copyright 2018 The Lawrence Journal-World. All rights reserved. This material may not be published, broadcast, rewritten or redistributed. We strive to uphold our values for every story published.