OTTAWA — It's been nearly a year since Iraq War veteran and Ottawa resident Allen Hill and his family appeared on national television, receiving a new home on ABC's "Extreme Makeover: Home Edition."
They've settled in nicely.
"The house provides him a place to come home to," said Allen's wife, Gina.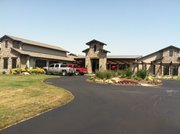 A main goal of the home's design was to shield Allen from outside noises, which can trigger the post-traumatic stress disorder he suffers from following his experiences in Iraq. Allen's received intensive inpatient treatment for his PTSD, but at their old Ottawa home, which was next to a railroad track and rock quarry, the noises would frequently send Allen into debilitating PTSD episodes.
But at the new home he shares with Gina and their two sons, soundproof walls and a more secluded neighborhood have significantly cut down his episodes.
"Comparing myself now to the same time a year ago?" Allen said. "Wow. It's night and day."
The extra peace and calm have enabled Allen to return to school at Ottawa University, where he's been awarded a scholarship to study computer science.
The family's experiences with PTSD have thrust the couple into the role of advocates, Gina said, especially following the airing of the show. She's now partnered with a St. Louis nonprofit to establish Silent Siren, a program that helps educate law enforcement and communities in ways to safely diffuse encounters and emergencies with ex-service members with PTSD.
Opening up his mental health struggles to the country has been its own journey, Allen said, but it's the Hill family's way of reaching out to other service members with PTSD.
"This is what we know," Allen said.
Copyright 2018 The Lawrence Journal-World. All rights reserved. This material may not be published, broadcast, rewritten or redistributed. We strive to uphold our values for every story published.