OTTAWA — Members of an Ottawa family were to get their first look today at their renovated home, complete with a new bedroom, expanded kitchen and wheelchair-accessible bathroom.
"We're so excited," said Angie Wampler-Cooper, who, along with her husband and two sons, were selected for the project by area nonprofit Professionals Helping Children. "They've gone all out."
The project is one of several home renovations completed by the organization during the past three years. The group, founded by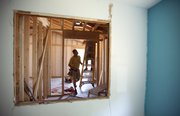 Franklin County Sheriff's Office Sgt. Brian Ferguson, selects one local family a year that has a child with a disability and fixes up the home to better accommodate the family.
Ferguson showed off the renovations volunteers were making to the home, which focused on making it more wheelchair accessible for Chance, 14, who has a spinal cord birth defect that affects his ability to walk.
Above the whir of saws and the smack of hammers, Ferguson pointed out that the new bedroom added on to the back of the house includes a handicap-accessible bathroom.
The all-volunteer crew has been working on the home for about two weeks. In addition to funding the renovations through donations and volunteer labor, the group sent the Wampler-Coopers on a mini-vacation to Pomona Lake, then to an area motel where the group provided the family's meals.
Ferguson said the effort in Ottawa is sort of a smaller-scale version of the TV show "Extreme Makeover: Home Edition."
"We've just been amazed by the openness of their hearts," Wampler-Cooper said.
Ferguson started the group after helping renovate a home for an area girl with spina bifida. He figured there were probably other local families in need and thought he could get supplies donated from area stores and enlist the help of some friends in the construction business.
"I thought, 'What a great idea,'" he said.
One of those friends, Billy Crowley, owner of Wise Guys Construction and president of Professionals Helping Children, said he jumped at the opportunity to help out on the annual projects.
"It's already hard enough for a family" with a disabled child, said Crowley, whose crew spent the past two weeks providing labor and materials for the home. "My kids are healthy."
Ferguson estimated the renovation costs at $50,000, but thanks to donations and labor help, the group was able to do the work for a fraction of that.
Making a home more friendly and accessible for a child like Chance is an easy community project to get behind, Crowley said.
"'Cause it's what we do," he said.
For more information about Professionals Helping Children, visit its Facebook page at
facebook.com/professionalshelpingchildren.
Copyright 2018 The Lawrence Journal-World. All rights reserved. This material may not be published, broadcast, rewritten or redistributed. We strive to uphold our values for every story published.