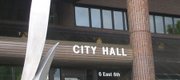 Subscribe to the email edition of Town Talk and we'll deliver you the latest city news and notes every weekday at noon.
News and notes from around town:
• When you think of the tiny rural Douglas County community of Stull, I'm sure the first thing you think of is Slash, the former lead guitarist for the heavy metal band Guns N' Roses. Right? No, the first thing most people think of — much to the chagrin of some Stull residents — is the Stull cemetery and the urban legend that it is one of the Gateways to Hell.
Well, enter Slash into the equation. The rocker has heard of the Stull legend as well, and has decided it would make the perfect setting for his debut as a movie producer. That's right, watch out Spielberg. Slash is becoming a movie mogul. According to The Hollywood Reporter, Slash's new horror-film production company — Slasher Films — has inked a deal with Anchor Bay Films to produce a movie with a plot that centers on the Stull cemetery and its dance with the Devil.
But hold on metal heads, before you get out the Charles Manson T-shirts and the case of Natural Light, the movie won't be shot in Stull. According to the Reporter, it sounds like shooting will take place in Louisiana, beginning next month.
Regardless, it will be interesting to see if the movie — which is titled "Nothing to Fear" — ends up giving a big-time boost to the Stull legend. Anchor Bay is a major movie distributor, and Slash is a heavy-metal icon. (I'll get out my cassette tape collection and cruise up and down Mass. Street with my windows rolled down, if you need proof.) This is the sort of thing that has cult-classic written all over it.
If so, that won't please several residents of Stull. Whenever I've even mentioned the Stull legend in previous articles, I've gotten phone calls that could qualify as a horror movie. To many Stull residents, the idea of their cemetery being a gateway to Hell is disrespectful to the people who are buried there. In the past, Stull residents have gotten somewhat aggressive in trying to stop folks from trying to enter the cemetery, and in 2002 the old church that was the center of much Halloween curiosity was mysteriously demolished.
Somehow, I don't think Slash is going to be too concerned about any of that.
"It is guaranteed to scare the hell out of you," Slash told The Reporter.
And if that doesn't do it, my cassette tape collection surely will.
• Speaking of the apocalypse, some Lawrence shoppers may feel like it is underway. We first reported in late December that there was strong speculation that American Eagle Outfitters would close its Downtown Lawrence store. Well, that has come to be. The store closed late last week, I believe, without any fanfare. The windows of the store are now covered with butcher paper. The company never did respond to any of my calls seeking comment on the closing. You'll have to let your imagination run wild as to why an American Eagle in a major college community apparently doesn't work. No word yet on whether the location at 619 Mass. has any hot prospects for a new tenant. But I'll check.
As we also previously have reported, the last scheduled day for Old Navy to remain open on South Iowa Street is tomorrow, Jan. 26. There's still speculation that Old Navy might have some interested in another Lawrence location — perhaps part of the soon-to-be-vacant Sears building — since it is believed that Old Navy is leaving over a lease dispute, not a sales problem. No word, though, whether American Eagle has any interest in staying in town.
• The retail scene isn't the only thing changing in South Lawrence. The Lawrence-Douglas County Planning Commission tonight will discuss several plans related to a large student housing community planned for the Gaslight Village Mobile Home Park just east of 31st and Iowa.
As we reported in November, plans have been filed by an Austin-based company to build 352 units of student apartments — a total of about 1,000 bedrooms — on the site of the mobile home park. Unlike a traditional apartment complex, Aspen Heights is proposing a development that will feature house-like structures spread out across the property, instead of large apartment buildings. The company envisions: 62 four-bedroom "cottages"; 62 two-bedroom duplexes; and 62 three-bedroom duplexes. The plans also include a deck and pool area, a clubhouse and sports courts.
The project, which would be spread over about 35 acres, needs new zoning and the approval of several design plans. Planning commissioners meet at 6:30 p.m. today at City Hall. Ultimately, the plans will need final approval from city commissioners before the multimillion-dollar project can proceed.
• Also up for discussion at tonight's planning commission meeting is the idea of redeveloping the area around Johnny's Tavern in North Lawrence. As we reported in November, plans are starting to be filed to build a major new commercial area along the Kansas River levee in North Lawrence. This one is still in its early stages. Planning commissioners tonight will consider a request to formally make the area part of Downtown Lawrence for planning purposes. That will make the area subject to less strict parking regulations than it currently is, and also allow it to house downtown-like buildings. But the developers — which includes longtime Johnny's owner Rick Renfro — have submitted some "concept plans." They include an 1,800-foot boardwalk that runs along the top of the levee. The boardwalk would be connected to shops, restaurants, and — they hope — a hotel. The idea is still speculative at this point, because major tenants haven't been signed up for the project. But certainly it will be one of the more interesting retail projects to watch in coming months.
Copyright 2018 The Lawrence Journal-World. All rights reserved. This material may not be published, broadcast, rewritten or redistributed. We strive to uphold our values for every story published.