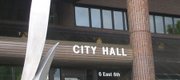 Subscribe to the email edition of Town Talk and we'll deliver you the latest city news and notes every weekday at noon.
News and notes from around town:
• Well, this may not end up being a very good month for folks who like national chain stores and closets full of the hippest names in clothing. Earlier this month we reported that the Old Navy store on South Iowa Street will be closing after the holiday season. Now, I'm getting what I believe to be is reliable information that American Eagle Outfitters will close its downtown store sometime after the holiday shopping season as well.
A manager at the store, 619 Mass., referred a question about the store's closing to a company spokesperson. The company has not returned my phone calls for several days now. I also made an inquiry with a representative of the local landlord for the building and never heard back. So, take it for whatever you think it is worth, but it looks like something to keep an eye on.
American Eagle Outfitters came to Lawrence in November 2000, shortly after a deal to build a major distribution center for the company on farm ground near the East Hills Business Park fell apart.
• On a happier note for the local economy, there is news that a deal we reported on previously indeed has happened. In August, we reported that a New Zealand-based animal health care company, Argenta, was planning to sign a lease to locate in the biosciences incubator building on KU's West Campus.
Local biosciences leaders are now reporting that the lease has been signed and Argenta will be moved into the facility by Jan. 1.
As previously reported, the company plans to eventually have 27 scientists working at the facility. Plans call for the firm to hire four to five positions a year until it reaches the total of 27. The average salary of the new jobs is expected to be $74,000 per year.
That number alone makes the project a significant one for Lawrence, but the impact the deal will have on the Bioscience & Technology Business Center makes it doubly important. With Argenta, the incubator facility now is 83 percent full. It houses eight companies, and 63 employees are based out of the center. All that has happened since the center opened in 2010.
The incubator facility is about four years ahead of its own schedule for filling up space, and that means 2012 will be a year where local bioscience leaders become more aggressive in trying to secure funding for expansion of the incubator. The city in 2012 budget already has committed $500,000 to a new project. It is expected to commit another $500,000 in its 2013 budget. Look for the Douglas County Commission to do the same. But an expansion likely will be a $7 million to $8 million project, and the Kansas Bioscience Authority likely will have to be the major funder if the project is going to happen. The state authority jumped at the chance to help fund the current incubator facility. 2012 may be the year where we find out if there is Part II to the story.
• File this under the category of cleaning out the notebook. When I recently wrote about street maintenance work scheduled for 2012, I neglected to mention one major street that is expect to have work done on it. North Second and North Third Street from the railroad overpass all the way to the northern city limits will get a special type of repaving sooner rather than later. The city plans to have the road microsurfaced sometime during the first three months of 2012. If you're not familiar with microsurfacing, it has become the city's new friend. It is a way of repaving a street without milling up all the old asphalt. Crews fix any major potholes or other issues and then put a thin coat of protection over the entire road. The city loves it because it is cheaper than a traditional repaving. A traditional mill and overlay costs about $14 per square yard. A microsurfacing costs about $3 per square yard. But you probably don't care about any of that, but maybe it will improve your mood when you start dodging orange construction cones in North Lawrence early next year.
• One other road-related issue: Folks who park along Connecticut Street from 12th to 15th streets may want to keep an eye on City Hall. The city will be repaving that stretch of street in 2012, and as part of the project they will want to explore the idea of adding bike lanes to the road. But the city acknowledges it will have to figure out something with on-street parking in order for those bike lanes to work. No word yet on what that may be, but it is an issue that likely will emerge in the coming months.
• Well, that's it for Town Talk in 2011. I'll be out of the office next week picking up the shards that are left from my post-Christmas bank account. Town Talk will return after the New Year. (Assuming I get all the eggnog out of my system.) Thanks for taking the time to read this column and send me tips this year. It has been fun. I hope you all have a safe and happy holiday season.
Copyright 2018 The Lawrence Journal-World. All rights reserved. This material may not be published, broadcast, rewritten or redistributed. We strive to uphold our values for every story published.