A company that dragged its feet on a $45 million distribution center for Lawrence didn't waste any time opening up a shop downtown.
American Eagle Outfitters opened its first store in Lawrence in time for Friday's opening of the holiday shopping season. It comes two months after abandoning plans for a sprawling warehouse and distribution complex in the East Hills Business Park and less than three months after signing a lease for retail space at 619 Mass.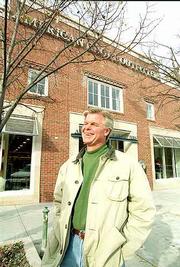 Before anyone could turn a shovel of dirt at the business park, construction crews gutted, renovated and rebuilt a former car dealership-turned-office building that until February had been home to a toy store. Now it's occupied by one of the country's fastest-growing retailers of apparel and accessories.
"It was a very involved project," said Bob Schulte, a co-owner of the building and vice president of Gene Fritzel Construction Co. Inc., which handled the renovation. "In order to get it done in the time they needed it completed, it made it doubly involved."
Interior demolition started Sept. 1, and crews worked late hours and weekends to finish by Nov. 8. That gave American Eagle enough time to stock shelves, set up displays and calibrate cash registers in time to open Nov. 16.
The rush was on.
"The Friday after Thanksgiving is the busiest shopping day of the year, and it was important for them to have a week or so to gear up for that," Schulte said. "As a policy, they don't open stores between Thanksgiving and New Year's. It might have been February before they would have opened this store if we didn't get it done in time."
The opening contrasts with the ending of the company's much bigger plans for Lawrence.
In March, American Eagle officials came to town with plans for a 402,000-square-foot warehouse and distribution center on 87.7 acres in the East Hills Business Park. The estimated $45 million project was to be the largest private economic development project in the city's history.
But after opposition surfaced about the development of farm land, about an expected 80-percent tax break, about the provision of 300 jobs, most of them paying entry-level wages American Eagle turned its attention to an existing building in Ottawa. In October, it decided to buy the vacant 289,000-square-foot center for less than $6 million.
Gap Inc. opened its relocated store with Gap, Gap Kids and Baby Gap product lines Wednesday at 643 Mass. The store, with 15,000 square feet of space, is more than four times the size of Gap's previous home at 647 Mass. Gap has not announced plans for its vacated space at the corner of Seventh and Massachusetts streets, but Gap units Banana Republic and Gap Body have been rumored as possibilities.
It will add another 110,000 square feet and is expected to open June 1 with 150 employees, said Michael Fostyk, American Eagle's vice president for distribution. Another 150 are expected within four years.
"It was close to a $10 million savings," Fostyk said. "It was strictly a business, economic decision."
While the distribution center deal collapsed Lawrence officials never had secured a written contract for the project Schulte's ownership group had a signed 10-year lease.
Even during the big announcement in March, American Eagle executives had gushed about the prospects of opening a store in Lawrence. Their desires never wavered.
"It was the distribution center that got them to look at Lawrence in the first place, but once they came here and saw the downtown and saw what it offered they were very excited about it," Schulte said. "And they continue to be very excited about it."
Schulte's ownership group, Bridgewater Co. LC, includes Tim Fritzel, John Stewart III, Andy Fritzel and Todd Sutherland. Kansas men's basketball coach Roy Williams also is a partner.
Copyright 2018 The Lawrence Journal-World. All rights reserved. This material may not be published, broadcast, rewritten or redistributed. We strive to uphold our values for every story published.