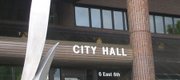 Subscribe to the email edition of Town Talk and we'll deliver you the latest city news and notes every weekday at noon.
News and notes from around town:
• From mobile homes to lots and lots of student homes. That seems to be the plan for the Gaslight Village Mobile Home Park just east of 31st and Iowa streets. Plans have been filed at Lawrence City Hall to build 352 units of new apartments — totaling 994 bedrooms — on the site that is just east of the Home Depot and Best Buy shopping area. We reported in October that a contract was pending on the property, and that residents of the approximately 150 mobile homes had been told they need to prepare to move.
The project is being proposed by Aspen Heights, an Austin, Texas-based company that specializes in student housing. The company, though, builds "student residential communities" that differ from traditional apartment complexes. Instead of building a few large apartment buildings, the company builds smaller house-like structures. This plan calls for 186 house-like structures to be spread out on the property. The company envisions: 62 four-bedroom "cottages"; 62 two-bedroom duplexes; and 62 three-bedroom duplexes. The plans also include a deck and pool area, a clubhouse and sports courts.
On its Web site, the company bills itself as building communities exclusively for students and building them in a way so that they are "centered around being a house and not an apartment." The company currently has locations in SEC powerhouse communities Athens, Ga., Auburn, Ala., and Baton Rouge, La. (Maybe they thought we were moving to the SEC.) The company also has complexes in San Antonio and San Marcos, Texas.
In order to build in Lawrence, the company is seeking to rezone the mobile home park from a single-family residential zoning district to RM-12, a multi-family zoning category that would allow 12 living units per acre. At this point I need to dive into the plans a little more deeply to give you a sense of how big this place is going to be. The mobile home park is 41 acres in size, but I'm not sure if the "concept plan" that was submitted to City Hall envisions the project being spread out over the entire 41 acres or whether some of that land is being held in reserve for future development. I'll check on that and provide an update later today. I'll also try to get in touch with the Aspen Heights folks, and the owner of the mobile home park to see when current residents will need to vacate the premises.
UPDATE: The numbers have been a little confusing, but I think I have it figured out now. The plan calls for 207 buildings, but since some of them are duplexes, there will be 352 actual living units or apartments. There will be 994 bedrooms. The development will be spread over about 35 acres.
What does seem certain, though, is that Lawrence is experiencing another apartment boom. In addition to this project, construction is underway on a $28.5 million apartment project — called Hunter's Ridge — that will add 300 apartments to the area near Sixth and Stoneridge Drive. Of course, others are trying to win approvals for new apartments, including a project to build more one-bedroom apartments near Clinton Parkway and Crossgate and downtown apartments at Ninth and New Hampshire. I'm also chasing down information on plans for an apartment complex north of Sixth and Wakarusa near the Wal-Mart location.
• Remember in late August when blue-green algae toxins were flowing down the Kansas River courtesy of our friends near Milford Lake? Well, the folks at Lawrence's Kaw Water Treatment plant sure do. The toxins — cyanobacteria and cyanotoxin microcystin, for those of you wearing pocket protectors — were a rare occurrence on the Kaw and left several water plant operators scratching their heads. The city temporarily shut the plant down and did some extra testing to ensure that the water supply was still safe, which it was. But there are still questions hanging out there over what happened. The city is teaming up with Johnson County water supplier Water One, the city of Topeka, the Kansas Water Office, the Kansas Department of Health and Environment and the United States Geological Survey to perform a $136,000 study of the toxins and their future in the Kaw. Lawrence's share of the study is about $20,000. The USGS will conduct the study. I'll check in with city officials to find out more about what they hope to discover from the study. In fact, I'll do that shortly. City commissioners are meeting at 9 a.m. today, instead of at their usual 6:35 p.m. meeting time.
Copyright 2018 The Lawrence Journal-World. All rights reserved. This material may not be published, broadcast, rewritten or redistributed. We strive to uphold our values for every story published.