Photo Gallery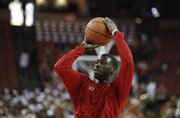 KU vs. Texas
Press Conferences & Post-Game Interviews
KU coach Bill Self
KU coach Bill Self talks to reporters following the Jayhawks' 69-66 victory over Texas on Jan. 21, 2012.
Press Conferences & Post-Game Interviews
Tyshawn Taylor and Thomas Robinson
Tyshawn Taylor and Thomas Robinson talk to reporters following the Jayhawks' 69-66 victory over Texas on Jan. 21, 2012.
Austin, Texas — Kansas University basketball coach Bill Self wasn't tempted to foul J'Covan Brown — instead of letting him hoist a possible game-tying three — on Texas' final possession.
"I'm not one of those coaches who believe you have to foul at three (-point lead)," said Self, who last spoke to his team during a timeout with 8.8 seconds left — just before Thomas Robinson toed the free-throw line for two attempts with KU leading, 68-66.
Robinson made the second of the two charities.
"The only way (Self may have ordered a foul) is if I called a timeout after Thomas made the second one. Then you are set, but Rick (Barnes, UT coach) has a chance then to do some things. I just said, 'Let's play.'''
Self stressed that he didn't want to inject negative thoughts in the timeout before Robinson's free throws. He did not want to suggest Robinson might miss one or even both.
"I told our guys, 'When we are up by four ... but if anything bad happens this is how we'll guard,'" Self said with a smile.
No moral victory: Texas cut a 15-point deficit to three in the first half. In the second half, UT again trailed by 15, eventually taking a four-point lead down the stretch.
"Obviously, we are about winning. No one could ever say that we are going to accept the fact that we did not win. I think we should win every time we go on to the court, no matter what year it is," said Texas coach Rick Barnes, whose young team fell to 2-4 in league play. "The frustration would be with the way we start games. There is absolutely no reason for it.
"The one thing you want as a coach is consistency. You want to know what you are going to get. We said from the beginning that we are not going to say anything about 'young guys.' I think it is a mind-set you have to come out with. You have to know that the other team is going to come out at you. Our whole game plan was the way we played the last 10 minutes of the game. We wanted to run and get our actions quicker. We did not do that. We played from behind, and then came back."
Faces in crowd: Former KU player Chase Buford attended with his dad, R.C. Buford, general manager of the San Antonio Spurs, and his mom, former KU golfer Beth Boozer. Texas senior Alexis Wangmene is Chase's adopted brother. ... Former KU forward Moulaye Niang also was on hand.
Barnes on KU's poise after the Jayhawks lagged by four (64-60 with 3:22 left): "I think at the end of the game, they executed. There was no doubt that they were going to go through Thomas Robinson, and they were driving the ball and getting it to the glass. There were a couple of costly turnovers earlier in the game. We threw the ball away in transition, and some of our shot selections were not great. I think one of the biggest things is learning to make the extra pass, to make it easier on each other on offense. We do not do that. Basketball is a game of spaces. We have to fight for spaces, and we do not do that enough.
Stats, facts: KU is 6-0 in the Big 12 for the third time in the Self era and for the sixth time in the 16-year history of the Big 12. ... KU has won seven straight road games. ... KU held Texas scoreless for 6:53 while building a 22-7 first-half lead. … KU made 10 of its first 15 shots and went on to finish 25-for-56 (44.6 percent). ... KU hit 60.9 percent the first half. KU has shot 60 percent or better in a half in four of six league games (Oklahoma second half; Texas Tech second half; Baylor second half; Texas first half). ... KU led all the way until the 5:36 mark of the second half. ... UT outrebounded KU, 42-35. KU has been outrebounded in three of 19 games. KU had its second-lowest turnover count of the season with six turnovers (five vs. Towson). ... Tyshawn Taylor had 22 points, his third-straight 20-point game and the eighth of his career. ... Elijah Johnson hit his team-leading 32nd three-pointer of the season in the first 20 seconds of the game and now has at least one three in all but two games this season.
Copyright 2018 The Lawrence Journal-World. All rights reserved. This material may not be published, broadcast, rewritten or redistributed. We strive to uphold our values for every story published.