The Kansas Supreme Court Friday vacated the sentence of a 32-year-old man convicted of aggravated indecent liberties with a 6-year-old in Douglas County in 2009.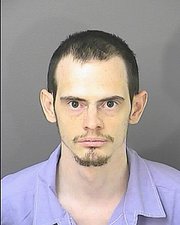 Justin Jones pleaded no contest to the charge in Douglas County in 2009, and as part of a plea agreement, Douglas County District Court Judge Peggy Kittel departed from the prescribed sentence of life in prison with a mandatory 25 years.
Kittel sentenced Jones to 120 months in prison with lifetime supervision, as agreed upon by the prosecution and defense.
However, the Kansas Supreme Court said the sentence was "illegal" because Kittel failed to follow the proper procedures for departing from sentencing guidelines, which call for a judge to use the Kansas Sentencing Grid.
"Both sides agreed to 120 months," said Douglas County District Attorney Charles Branson. "The court said how we got there was incorrect. ... We believe the sentence should be 120 months based upon the party's agreement.
The case will now head back to Douglas County for a sentencing hearing.
Copyright 2018 The Lawrence Journal-World. All rights reserved. This material may not be published, broadcast, rewritten or redistributed. We strive to uphold our values for every story published.