A Belton, Mo., man pleaded no contest Wednesday for his involvement in a 2009 robbery on the Kansas University campus.
Prosecutors had accused Mykel Dantae Karlyle, 21, of using a handgun to rob a student of marijuana on April 29, 2009, in the parking lot outside McCollum Hall. Prosecutors said the victim in the case believed he was going to sell marijuana when he was robbed. Karlyle entered the plea to one count of aggravated robbery.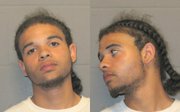 His attorney Matthew Works said both sides expect Karlyle to face about five years in prison. Assistant district attorney Eve Kemple said Karlyle would also be required to register as a violent offender because a firearm was used in the robbery.
According to Shawnee County court records, Karlyle also faces a March 12 trial on aggravated robbery and aggravated battery charges for a 2011 case there.
District Judge Kay Huff is scheduled to sentence Karlyle in the Douglas County robbery case 11:30 a.m. Feb. 14. Huff also ordered Karlyle to concurrently serve an 18-month sentence for a probation violation in a 2009 misdemeanor criminal use of weapons and drug possession case.
A co-defendant in the KU robbery case, Terrance Anthony Dean, 21, of Topeka, has a trial scheduled for later this year.
Copyright 2018 The Lawrence Journal-World. All rights reserved. This material may not be published, broadcast, rewritten or redistributed. We strive to uphold our values for every story published.