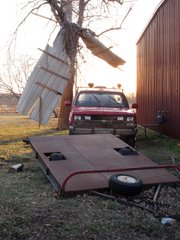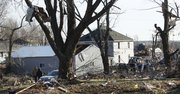 Harveyville — Authorities prepared a makeshift landfill Wednesday in Harveyville to handle the debris a day after a tornado damaged about 40 percent of the tiny eastern Kansas town, reducing homes and the community's United Methodist Church to rubble.
Sharon Watson, a spokeswoman for the state adjutant general, said the storm — which hit just after 9 p.m. Tuesday — injured 14 people in the town of about 250. Eight victims were treated at the scene by EMS personnel, and six were transported to hospitals in Topeka. By midday Wednesday, five had been released, and one remained in critical condition.
The tornado was an EF-2 with winds of 120 mph to 130 mph, state emergency management officials said. It was part of a powerful system that produced multiple reported tornadoes across the Midwest late Tuesday and early Wednesday, killing at least nine people.
Much of the town, which is southwest of Topeka, appeared to be heavily damaged, and Gov. Sam Brownback declared a state of emergency. He planned to tour the community Thursday.
Numerous homes were reduced to rubble, many trees and power lines were down and gas service was out across the city.
Judy Price considered herself and her husband, relatively lucky because their home of nearly 38 years sustained heavy damage but still was standing. Family, neighbors and friends boarded up blown-out windows and cleared away the remains of a destroyed garage and awning for a small porch.
Price, 60, said she had her husband, Clayton, were going to bed early when the storm hit. They rushed into the adjacent bathroom, and she took shelter in a bathtub as "all hell broke loose" for just a few seconds.
"It just happened so fast and was over so fast," she said. "We're assessing the damage in the house and we're thinking, "OK, we've got some windows blown out,' and then I open front door to look out, and I say, 'Our porch is gone.'"
Authorities discouraged volunteers from coming to help with the cleanup until Thursday, so they could prepare a field east of Main Street to hold the debris.
The Harveyville United Methodist Church, which has been at the same site since 1885, was little more than a mound of debris and rubble Wednesday morning. Its organ, heaved by the storm, lay in a shattered heap across the street.
Pastor Dennis Irwin described his church as vibrant and said it has 111 members.
"We'll rebuild," he said. "It's too much part of the community not to rebuild."
Irwin said the church basement acts a community storm shelter, but no one had time to get there. The basement had only a few broken light fixtures. He said the church added stained glass windows — now gone — to its worship space about 10 years ago.
"It was a beautiful white country church," he said. "The church is gone, but the congregation's not."
Grant Hill, 42, said the storm blew out a couple windows and damaged his porch. He said his family huddled in a back bedroom because the tornado came too quickly for them to take shelter in their basement, which is only accessible from the outside.
"You basically heard a continuous low rumble of thunder, then all of a sudden stuff started shaking and windows breaking and it felt like the house was going to explode," he said.
Copyright 2018 The Associated Press. All rights reserved. This material may not be published, broadcast, rewritten or redistributed. We strive to uphold our values for every story published.