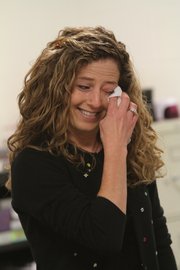 A Southwest Middle School teacher has been named to the 2012 class of Kansas Master Teachers.
Kendra Metz, who teaches language arts and reading, is one of seven educators across the state who received the award. Master Teachers are recognized for their years of service and for their outstanding teaching qualities.
Metz has spent 18 years in the Lawrence school district. In that time, she has been at Central Junior High, Quail Run, Prairie Park and Woodlawn. In the fall, Metz was among the teachers who helped transition sixth-grade students from the elementary school to the middle school, moving from Hillcrest to Southwest Middle School.
Before that move, she spent six years at Hillcrest. There, she was well-known for incorporating Italian Restaurant Day into the curriculum, a project where students would learn about applying for jobs, making pasta and serving customers. The money raised would go toward helping other students.
In November, Metz had a surprise visit to her classroom from Superintendent Rick Doll, former colleagues and family. She was honored with the Lawrence Master Teacher award, which comes with a $2,500 check from KU Credit Union. From there, she was nominated for the state competition.
According to the program, key to Metz's success is her ability to "find each student's unique needs, take interest in her students outside the classroom and use inventive projects to expand their learning and give back to the community."
As part of the Kansas Master Teachers program, two of the seven teachers will have the chance to teach education students at Emporia State University for part of the semester.
A ceremony honoring the 2012 class will be April 4 at Emporia State University.
Copyright 2018 The Lawrence Journal-World. All rights reserved. This material may not be published, broadcast, rewritten or redistributed. We strive to uphold our values for every story published.