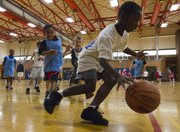 More than 100 first- and second-graders decided to forgo watching cartoons or sleeping in Saturday to spend their morning playing basketball instead.
Before 8 a.m., about a hundred children from the Boys and Girls Club of Lawrence filed into Robinson Gymnasium, 1301 Sunnyside Ave., and waited for instructions. Soon the kids were pulling colored mesh jerseys on over their clothes. Then they were split into teams of three or four, and the court was divided piecemeal. Six to eight half-court games started simultaneously.

"It's organized chaos," said Dakota Strange, president of Kansas University Sport Management Club, the group that organized the event.
It was the third year for KU Sport Management to sponsor the youth basketball tournament. The 40-plus people involved began collecting money at the launch of the semester, scrambling to raise $850 within two weeks. Hy-Vee was the group's main sponsor. In all, 10 different local companies contributed to the event. And surplus funds will benefit the Boys and Girls Club of Lawrence.
Robinson Gymnasium was a cacophony of sneakers squeaking, basketballs drumming and children shrieking, squealing and giggling as they raced down the court and scrabbled for the ball.
Among the second-graders darting down the court was Taiya Smart, 8, who wore black shorts, and a white tank top, her blond hair tied back in a ponytail. It was Taiya's first big basketball game.
"I just started playing (basketball) in the second grade because I learned that I could do it," she said.
At the edge of the court was Marcia Smart, Taiya's grandmother, who clutched a purse and tracked Taiya's feverish movement. Taiya's interest in the game is new, but her enthusiasm is strong. In each of her games, Taiya locked her gaze onto the basketball. And when the ball moved, she moved.
Also on the court was second-grader Aidan Flores, who wore glasses and a red mesh jersey so large it kept sliding down his right shoulder. Aidan played in the tournament last year and loved it. His mother, Aletha, said Aidan, 7, had been asking about the tournament since November. He was bursting with excitement Saturday. His favorite things about the day? "Playing and scoring and having fun," he said.
Aidan was one of seven boys representing Broken Arrow School.
"There is a ton of people here, and it's only first- and second-graders," said MacKenzie Kerns, a team leader for Broken Arrow. "They were so excited for today, and they're having a great time."
Jaden Hall, 7, said the day was not about winning — though he loves it when he wins.
"There's a lot of people to see, and it's not all about the game," Hall said. "It's about fun."
By 9:30 a.m. Hall had already made four baskets, and he was feeling confident that he would make more. And if he didn't, oh well. He was having fun.
"There's no clear winner and no trophies," said Andy Kreigh, 22. "We didn't want to emphasize a winning and a losing side. It's just a fun and unique way to reach out the community … and get the kids active in a healthy, competitive environment."
The day of the tournament was also Kreigh's 22nd birthday. And he couldn't have imagined a better way to spend his day.
"This is definitely one of the most unique, fun ways I've ever spent a birthday."
Copyright 2018 The Lawrence Journal-World. All rights reserved. This material may not be published, broadcast, rewritten or redistributed. We strive to uphold our values for every story published.