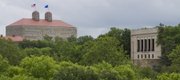 Subscribe to the email edition of Heard on the Hill and we'll deliver you the latest KU news and notes every weekday at noon.
Your daily dose of news, notes and links from around Kansas University.
• The NCAA is considering a tweak to a proposed $2,000 stipend for student-athletes that I reported on earlier.
That's according to the Chronicle of Higher Education.
The proposal would mean fewer athletes would be eligible, the Chronicle reports, because athletes would have to prove financial need before they would qualify for the extra cash.
KU, if you remember, was generally supportive of the idea but had a few concerns relating to recruiting and gender equity.
That concern is addressed in the new proposal. You'll recall (and if you don't, you can go click that link up there and see for yourself) that Jim Marchiony, an associate athletic director at KU, told me that athletes on partial scholarships weren't eligible for the stipend.
That created a bit of a gender-equity issue, as many more male athletes have full scholarships than female athletes.
The new proposal from the NCAA would allow athletes on a partial scholarship to be eligible for a proportional share of the money, the Chronicle said.
The plan would need the approval of the NCAA Division I Board of Directors before going into effect. If approved, don't look for it before the 2013-14 academic year.
• I heard that KU got a shout-out on "Wheel of Fortune" earlier this week.
A tipster told me that Melissa Templeton from Camp Pendleton (which is really fun to say out loud), appeared on the the show's military spouses week.
She's originally from Kansas and is married to Marine Corps Capt. T.J. Templeton, preparing for his second tour in Afghanistan.
She apparently gave a nice "Go, Jayhawks!" on the way to winning two cars, a trip to New Orleans and cash.
To my knowledge, KU does not offer a course in solving "Wheel of Fortune" puzzles (I'm looking at you, linguistics department), so she must have picked up those skills somewhere else.
• Three finalists have been named in KU's search for a new director of accessibility and ADA (Americans with Disabilities Act) education.
Jamie Lloyd Simpson is disability program coordinator at the Kansas Department of Health and Environment. Teresa Haven is supervisor of Alternative Format, a disabilities services program at Arizona State University. And Jaclyn Anderson is the director of the Academic Resource Center at Kansas City Kansas Community College.
They'll all be on campus soon for public forums, and you can see the details here.
• Seriously. How cool would a class on "Wheel of Fortune" puzzles be? Tell me about that or anything else on your mind at ahyland@ljworld.com.
Copyright 2018 The Lawrence Journal-World. All rights reserved. This material may not be published, broadcast, rewritten or redistributed. We strive to uphold our values for every story published.