Recently I came across a photography blog about what newspaper photographers don't like to hear said to them when working. I couldn't help but consider some of the stuff I'd rather not hear on the job. Here are a few examples:
"Would you like fries with that?"
I have nothing against the workers at McDonald's or fast-food restaurants in general, but when I hear something like this it usually means I've got less than 15 minutes to eat because of a pressing photo assignment. It's one of the hazards of a job that doesn't pay heed to any normal workday clock. This is right up there with, "Is it OK if you work Christmas?" and my wife's "You're not working Christmas again, are you?"
"What would you like me to do?"
Subjects that are part of a Journal-World news or feature story often greet me at their door with this question. I totally understand. It's got to be hard to have an unknown photographer walk into your home and continue acting normally. But that's really what I want. Unless I'm doing an intentional portrait, maybe having you hold a bowl of fruit or something, I'd prefer you to ignore me if possible. The better greeting would be, "Can I just ignore the fact that you are a stranger in my house and go about my business while you go about yours?" If I do want a portrait, I'll let you know and I'll even bring the fruit bowl.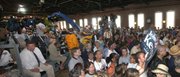 "The press is over there on the risers"
Most of the time having a press pass is awesome. I get into stuff for free and have access to events that most people don't. One exception are events where I'm managed like a cow sent down a cattle chute. I'm herded to tall platforms in the middle of the general-admission public and a football field away from the action. Whether it's Bono or Obama I'm photographing, this press pass pasture is where I'm relegated. If possible I'll leave this area and go free-range, mingling with the normal folk and seeking out different perspectives and images. But this can lead to....
"Hey, you can't be here!"
I'm so used to having access to stuff that it's easy to step over the line or push my luck too far. Hearing this means that the location where I envisioned the best photograph is not within my zone of access. Waving my press pass won't even help in these situations.
"I'd rather not have my photograph taken"
I hear this line often. But I don't always believe people. And if you give me a chance to soften you up with some conversation and idle chat, you'll relax and I'll probably change your mind. Then you'll ask me, "What do you want me to do?" Actually, there have been very few times in my years working at the Journal-World where someone has completely refused to have their photograph taken. You might hesitate at first, but in the end resistance is futile.
"The referee says you need to take that down"
Journal-World photographer Nick Krug had this said to him recently. He had spent considerable time — hours before a KU men's basketball game — mounting a remote camera to a backboard. Two-minutes before tip-off, he was informed to take it down on a referee's order. I was standing next to Nick, and had he looked at me for any words of sympathy I might have said, "Would you like fries with that?"
Copyright 2018 The Lawrence Journal-World. All rights reserved. This material may not be published, broadcast, rewritten or redistributed. We strive to uphold our values for every story published.