Douglas County legislators differed sharply over school finance, taxes, concealed carry and election law Saturday, mirroring the contentious debates dominating the 2012 legislative session.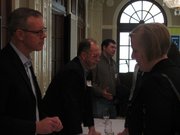 The panel of legislators talked about the session and took questions in front of about 75 people at the Lawrence Chamber of Commerce Eggs and Issues breakfast at the Eldridge Hotel.
Democrats criticized Gov. Sam Brownback's proposed school funding overhaul, saying it would lock into place school budgets that had already been severely cut the past few years, force local property tax increases and eliminate a key component of school finance that provides additional funding to educate children who are disadvantaged.
"This is a disaster for our urban school districts," state Rep. Ann Mah, D-Topeka, said.
State Sen. Tom Holland, D-Baldwin City, said eliminating state limits on local property taxes would help students in wealthy districts but not poor ones. Brownback's school finance plan "picks winners and losers. Your education is going to be run by zip code," Holland said.
But state Rep. TerriLois Gregory, R-Baldwin City, said the plan would give local school boards more authority on how to spend funds and whether to raise local taxes to help pay for costs. Gregory, however, parted ways with Brownback on his plan to have teachers evaluated based on student performance and input from supervisors, peers, parents and students, and then posting the grades on a website. "I think it stinks," she said of that plan.
State Rep. Barbara Ballard, D-Lawrence, said the state should seek input from those working on the front lines, such as superintendents, teachers and school boards. "Why don't we look to them for suggestions on how to improve education?" she asked.
Mah also blasted legislation by Secretary of State Kris Kobach that would require new voters show proof of citizenship to register to vote as of June 15. The proof of citizenship requirement is already part of state law but doesn't take effect until 2013.
"It will absolutely shut down grass-roots registration to vote," Mah said, and it will cause confusion just weeks before the deadline to register to vote in the August primaries.
But Gregory defended the proposal, saying the best time to check on citizenship was before a presidential election when there is a surge of registration. She said it is more difficult to remove from the registration rolls voters who shouldn't be there than it is to stop them before they register.
State Sen. Marci Francisco, D-Lawrence, said Brownback's budget proposal, which is being considered in several committees, is difficult. For example, she said Brownback has asked for $1.2 million more to bridge a shortfall in the state parks system but provides no additional funds to address a shortfall in the judicial system that could lead to courts having to shut down for up to six work days this year.
On the tax side, Holland, who serves as the ranking Democrat on the Senate tax committee, said Brownback's proposed tax changes would hurt the middle class. Brownback has proposed lowering income tax rates, eliminating numerous deductions and making permanent a temporary sales tax hike that is set to expire next year.
A proposal that would allow concealed carry permit holders to bring their guns into public buildings and on college campuses also drew sharp differences.
State Rep. Anthony Brown, R-Eudora, said he supported the idea. Brown said that his daughter was about to attend college and that there was no way a school could guarantee her safety.
Mah said that she supported the law that allowed concealed carry of guns but added that she thought local officials should have the authority to determine whether to allow them in public buildings and campuses. "The notion that you're not safe unless someone in the room is packing heat, that's just nuts," she said.
House Democratic Leader Paul Davis of Lawrence said the most significant issue facing the Legislature is how to resolve the unfunded actuarial liability within the public pension system. He said the current proposal, supported by Brownback, to change the defined contribution system to more like a 401(k)-style plan does not address the underlying unfunded liability. State Rep. Tom Sloan, R-Lawrence, said the state had a moral obligation to maintain pension benefits to those already vested in the system.
Copyright 2018 The Lawrence Journal-World. All rights reserved. This material may not be published, broadcast, rewritten or redistributed. We strive to uphold our values for every story published.