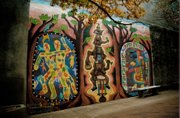 Downtown Lawrence visitors who miss the presence of a mural that was in the walkway between 716 Mass. and 722 Mass. will probably have to wait a couple more months.
Lawrence muralist David Loewenstein, who organized the original mural in 1993, named "The Guardian of the Arts," said he'll need to wait for the weather to warm up.
Loewenstein expects the project to begin in mid-April. At this point, Loewenstein, who will donate the labor for the mural, said the idea is to restore the old mural, with a few minor changes.
The project should take about a week, and there will be opportunities for community members to help, he said.
After a January Journal-World article on the mural, the Lawrence Chamber of Commerce raised the $1,000 needed for supplies in less than a day and is coordinating with Loewenstein on the project.
The mural, which had become a downtown Lawrence staple, was recently covered up during repairs to the building that houses Signs of Life, 722 Mass.
Copyright 2018 The Lawrence Journal-World. All rights reserved. This material may not be published, broadcast, rewritten or redistributed. We strive to uphold our values for every story published.