A 24-year-old man arrested on suspicion of felony drug and weapons crimes after a high-speed chase early Tuesday morning remained in jail Friday and is wanted in Johnson County.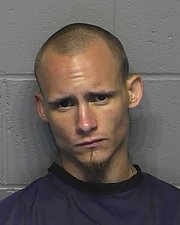 Dakota Dale McDaniel, address unknown, appeared in Douglas County District Court on Wednesday, where Judge Peggy Kittel set bond at $40,000. He has been in custody in Douglas County Jail since leading police on a high-speed chase, driving a motorcycle through North Lawrence before crashing in Watson Park. He was arrested on foot in the 600 block of Kentucky Street.
McDaniel is listed by the Kansas Department of Corrections as having absconded from Johnson County Community Corrections Dec. 3. He had been convicted in August of identity theft in Johnson County.
He was booked into jail Tuesday on suspicion of illegal distribution of controlled substances and drug paraphernalia, illegal possession of a firearm and possession of stolen property, as well as multiple traffic offenses. McDaniel is scheduled to appear in court again Jan. 8 for a preliminary hearing.
Copyright 2018 The Lawrence Journal-World. All rights reserved. This material may not be published, broadcast, rewritten or redistributed. We strive to uphold our values for every story published.