Photo Gallery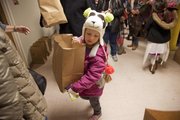 Community Christmas Dinner at First United Methodist Church
photothumb" id="246713" align="left" />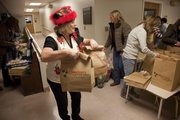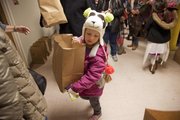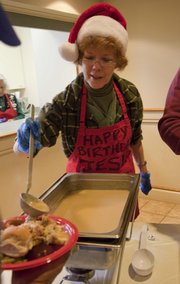 For 19 years, people have gathered on Christmas Day at the First United Methodist Church, 946 Vermont St., to enjoy a warm holiday meal, as well as the warmth of community and friendship. Whether they are rich or poor, homeless or well-to-do, everyone is equal on this one day of the year when people from all walks of life gather for a traditional holiday dinner with all the trimmings.
"I think it's a great deal," said Larry Schlosser, owner of Party America at 1441 W. 23rd St.
For the last 15 years, Schlosser, who also serves on the board of the local food pantry, Just Food, has donated tableware and other accessories to help put on the event. But this was the first year he had actually come to the event and helped serve food.
"I've had an elderly aunt up until this last year, and so I've always kind of spent Christmas Day with her," he said as he handed out plastic plates to people in line. "But I don't have her now, so I'm here."
Seated not far away, Don and Sandy Nease were just finishing up their dinner.
"We're longtime Lawrence residents and we have Thanksgiving dinner with our son in Michigan, and so we don't have anybody to be with at Christmas," Sandy Nease said. "So we just come down here. It's nice to be with other people."
Brower Burchill, one of the original organizers of the event, said that was the whole idea when a group of people led by Katherine "Lani" Oglesby got together in 1993 and started talking about hosting a holiday dinner for the whole community.
Oglesby died in 2010, but Burchill said her vision of a communitywide celebration of Christmas lives on.
Burchill could only talk briefly while he moved around greeting friends in the dining hall and busily directed people on where to get in line.
"We try to encourage families to come and mingle," he said. "And the people who volunteer, we encourage them to eat when they're not working at the moment so they can interact with everybody."
Buchill estimated between 400 and 450 people would come through the line in the basement of the church, while another 600 to 700 meals would be delivered to those unable to come in person.
Down the hallway, in a room dubbed the "other kitchen," John Olson and his family were dishing up stuffing and turkey into large aluminum foil pans to be kept warm for the late arrivals, or for the meals being boxed up for delivery. This was the third year the Olsons volunteered to help out.
"We've gotten to know what to do and how to do it," Olson said. "The first year we kind of stood around and watched everyone. We feel like we're doing something to help the community. We feel like we're participating in the Christmas spirit of helping others, helping those less fortunate."
But this year was a brand new experience for Al and Eileen Rogers, who had always spent Christmas with their children until they recently moved to Colorado.
Standing amid several dessert tables where more than 170 pies were cut up and ready to serve, Eileen Rogers said she had only recently learned about the dinner, despite having lived in Lawrence about eight years.
"We're usually not home on Christmas, so if I had heard about it it probably just went over my head," she said. "But this year we knew we were going to be here so we decided to volunteer. Our son worked at the university, so we retired here. And now he's at the University of Colorado, but we're not going anywhere. We love Lawrence."
Copyright 2018 The Lawrence Journal-World. All rights reserved. This material may not be published, broadcast, rewritten or redistributed. We strive to uphold our values for every story published.