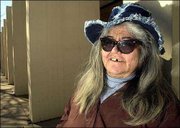 To friends and fellow advocates for the poor, Katherine "Lani" Oglesby, 63, who died Wednesday in Overland Park, was someone who made things happen.
Sometimes it was by force of personality, sometimes by force of will.
Longtime friend Saunny Scott said results, not challenges, were the only concern for Oglesby in the various projects she embarked on to improve the lives of Lawrence's poor, mentally ill and homeless.
When the annual Community Christmas Dinner needed a new location, Oglesby found a home. When the area's homeless needed a drop-in center, Oglesby found a local church.
And when there was no shelter space for the homeless, Oglesby opened up her own home to them. "Lani would say, 'We need it; get it done,'" Scott said.
Oglesby's efforts were all the more impressive because they happened in spite of her own challenges, said Suzanne Wolf, who worked with Oglesby on community projects.
Oglesby struggled most of her life with mental illness and health problems, and her work in Lawrence over the past few decades was interrupted occasionally by hospital stays, Wolf said.
"It was amazing, all she accomplished," Wolf said. And when Oglesby returned from a hospital stay, "she'd pick right up as though it never happened."
Oglesby's influence on the community will live on, said Deb Engstrom, special education teacher at Lawrence High School who worked with Oglesby on volunteering projects over the past 20 years. Engstrom credits Oglesby as the driving force behind the creation of what is now the Lawrence Community Shelter and the continued tenure of the annual Community Christmas Dinner.
Engstrom said Oglesby taught her how to persevere at times when the obstacles to helping the needy in Lawrence seemed insurmountable. "A lot of times I'd say, 'We can't do this.' But Lani just wouldn't let me quit," Engstrom said.
Copyright 2018 The Lawrence Journal-World. All rights reserved. This material may not be published, broadcast, rewritten or redistributed. We strive to uphold our values for every story published.