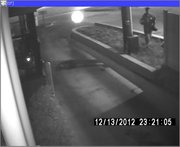 Lawrence police are asking the public for help identifying a suspect in a Dec. 13 robbery of Cheers Liquor, 1414 W. Sixth St.
Police Thursday released a photo and a surveillance video from Dunkin' Donuts, 1400 W. Sixth St., which shows a man walking up to the liquor store.
According to Lawrence Police Sgt. Trent McKinley, a suspect — armed with a handgun — approached a clerk and demanded money, and the clerk complied.
The suspect — described as black man in his 20s, approximately 5-foot-8 with a thin build — fled on foot.
Anyone with information call Det. M.T. Brown at 785-830-7449, or the CrimeStoppers Hotline at 843-TIPS (8477).
Copyright 2018 The Lawrence Journal-World. All rights reserved. This material may not be published, broadcast, rewritten or redistributed. We strive to uphold our values for every story published.