Stilwell — To counter Olathe North's height, Lawrence High coach Mike Lewis chose to go short.
The lineup switch couldn't have gone much better, as starting five guards sparked the Lions in a 56-41 victory over North on Friday afternoon at the Blue Valley Shootout.
Photo Gallery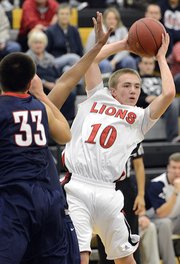 LHS boys vs. Olathe North in Blue Valley
Photos from the Dec. 7, 2012, game between Lawrence High's boys basketball team and Olathe North in the Blue Valley Shootout
"We realized that even our big men were not that big, so we thought to get out and run would be really good against them," LHS senior guard Jake Mosiman said. "It worked out pretty well."
North, which features four players 6-foot-5 or taller, didn't adjust well to LHS's quick starting five in the opening minutes.
The Eagles missed their first eight shots, as the Lions opened the game on a 6-0 run before extending that lead to 11-2.
North never led after that point.
"It definitely caught them off-guard," LHS freshman guard Justin Roberts said. "Once they got back into it, I think we already were in a flow that we couldn't be stopped."
Lewis chose to start 6-foot guard Drake Hofer in the place of a traditional forward, hoping that his short five would create mismatches.
"Before we came out after the warmup, that's what I emphasized with our guys is, 'Here we go. We've got our guards. What are they going to do (to adjust) to us?'" Lewis said.
The shorter lineup provided the Lions with a quick-scoring offense in transition, helped by sophomore guard Anthony Bonner, who led the fast-charging pace.
"Part of the five-guard set was to get out and go — and go fast," Mosiman said. "That's what we did and did it really well. Bonner's really fast going down the court with the ball. Nobody could stop him today."
Mosiman, meanwhile, helped defensively by doing his best to body up. The skinny 6-foot guard oftentimes defended a North post player in the lane, many times going against someone five inches taller and at least 75 pounds heavier than him.
"Last year, I guarded quick little guards. It's a big difference," Mosiman said with a smile. "It's more fun for me. I like guarding the post. I like challenging for rebounds against them, seeing what they can do."
LHS kept its lead by hitting outside shots, making 7 of 16 three-pointers (44 percent).
Roberts led the Lions, posting 20 points on 6-for-12 shooting while making 3 of 6 threes. Bonner added 16 points on 5-for-10 shooting with 2-for-3 accuracy from deep.
Mosiman was the only other LHS player in double figures with 13.
North made just 13 of 45 field goal attempts (29 percent).
"We did a lot better defensively," Roberts said. "Our guards were a lot more scrappy in the paint. We went for loose balls. We were hustling a lot better. I think we just out-hustled the other team."
LHS (2-1) will play Olathe Northwest in the fifth-place game of the Blue Valley Shootout at 2:45 p.m. today.
Copyright 2018 The Lawrence Journal-World. All rights reserved. This material may not be published, broadcast, rewritten or redistributed. We strive to uphold our values for every story published.