News and notes from Douglas County schools:
• I've been away from Lawrence for a few days, but upon my return Tuesday morning, I started looking into the number of exchange and international students currently in the area. It's a topic near and dear to me as my mom did an EF program when she was in high school and then I stayed with that same family years later. If you're a member of a host family yourself, please contact me if you wouldn't mind being interviewed briefly; you can call at 832-6939. Look for a full story soon.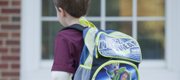 Subscribe to the email edition of First Bell and we'll deliver you the latest local education news and notes every weekday at noon.
• The independent news site Watchdog.org featured a Kansas story today on the fact that, though education funding is going up, test scores like the ACT are pretty flat. Travis Perry makes the argument through stats from the Kansas Policy Institute, a Wichita policy group, which points out that per-pupil funding is lower in Colorado and Texas, but ACT scores are higher. Read the full story here.
• Free State High School recent graduates Nina Keizer, Lauren Nus and Ruthie Ozonoff had work featured in this year's Aerie International, a magazine for and by high school student writers and authors.
• Last week, U.S.D. 497 expanded by at least one — board member Shannon Kimball had a baby girl on Tuesday. Board president Vanessa Sanburn told me that she's expecting, too, in January.
• Anything I need to learn? Send news tips, comments or questions to acgarrison@ljworld.com.
Copyright 2018 The Lawrence Journal-World. All rights reserved. This material may not be published, broadcast, rewritten or redistributed. We strive to uphold our values for every story published.