I introduced myself in yesterday's First Bell, but there's still a lot of people involved with area schools I have yet to meet.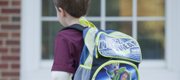 Subscribe to the email edition of First Bell and we'll deliver you the latest local education news and notes every weekday at noon.
For today's post, I thought I'd introduce another person new to her job — kind of. Vanessa Sanburn is the USD 497 school board president and, though she's been on the board since 2009, this week's meeting was her first to lead.
The board president position doesn't carry more voting power; it's the person who leads the meetings and, with help from the district staff, sets the agenda for each. So Sanburn says this year on the board won't be much different for her in terms of responsibilities.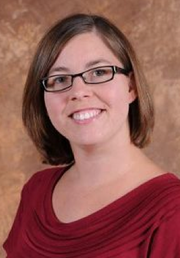 Sanburn graduated from Kansas University with a master's degree in social work in May 2010. Before that, she got a degree in biology from Wichita State University. After working in a lab for a while, she said realized she wanted to work more with people and in social services.
She has one daughter in the school system, Nadia, who started fourth grade yesterday. She's expecting another child in January.
This year is also the last in her term. I asked if she had considered if she would renew, and she said it was too soon to say. She said she does believe in having consistency on the board, especially given what she expects to be even tougher state-level budget cuts to education.
One thing that she aimed to teach me during our get-to-know-you conversation was a better understanding of who dictates directives to whom within the district. Superintendent Rick Doll led the goal-setting meeting I recently attended, but it was all from material brought to his attention by members of the board, Sanburn said.
•••
Speaking of that meeting, Andy Hyland wrote about the board's discussion of its bond issue in Tuesday's paper. That's in very early stages but is something those involved in the district are talking about quite a bit. This week, the board said that it would get a bond issue plan published by Jan. 1 and selected Gould Evans Architects to do it.
Gould Evans has offices at 700 Mass. as well as nationally, and board member Keith Diaz Moore (himself an architecture professor) said the local nature with access to national expertise, particularly in building green schools, was one reason he recommended the firm.
I had hoped to get some details of the financial aspects of the deal, but Julie Boyle, director of communications, said those were still being determined. Once it's hashed out, that budget will go to the board for approval.
•••
Administrators at Liberty Memorial Central Middle School called police this morning after a fight between two eighth-grade boys. No one was injured.
•••
So when it comes to covering education, I recognize I still have a lot to learn. If you have any comments, questions or news tips, email me at acgarrison@ljworld.com.
Copyright 2018 The Lawrence Journal-World. All rights reserved. This material may not be published, broadcast, rewritten or redistributed. We strive to uphold our values for every story published.