Welcome to the inaugural edition of my time here at First Bell. I'm going to be taking over covering education, and so I decided to revamp and relaunch this blog in the style of our esteemed Town Talk and Heard on the Hill blogs.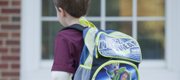 Subscribe to the email edition of First Bell and we'll deliver you the latest local education news and notes every weekday at noon.
I'll post most weekdays for the next week — the blog will go live at 12:01 a.m. and email out to subscribers at noon — as a "trial run" and see what feedback I get. If you have any comments, any questions or education-related story ideas, you can email me at acgarrison@ljworld.com, tweet me @alex_garrison or even give me a phone call at 832-6314.
A bit about my own educational background: I graduated from Piper High School in Kansas City, Kan., in 2007, but before that, I sat three A-levels in Bridlington, East Yorkshire, England. What are A-levels? Adam Holden, Lawrence Public Schools' assistant superintendent for teaching and learning, could tell you — he's from England. But for the non-Anglophile, they're the standardized tests taken between age 16 and entrance to university.
I came back to Kansas (I'm an American, I just lived in England for awhile) and moved to Lawrence to attend Kansas University. I graduated in December 2011 with a degree in journalism with concentrations in Islamic studies, poetry writing and political science.
My five-year high school reunion was just a few weeks ago. That makes me, I know, incredibly young. (And no, I don't have any children.) But despite — or maybe because of! — the fact that school wasn't that long ago for me, I'm looking forward to covering the school board and a wide range of educational issues.
Superintendent Rick Doll introduced me to the school board at its meeting Monday night. He recently put together a video as a welcome message, which is his tradition for the teachers' first contract day (that was also Monday). You can watch the video message here. It's about 13 minutes long, but it covers a lot of the major goals Doll has set for the district this year.
Here's just another reminder that school in USD 497 starts soon, if not already. The sixth-graders started on Tuesday; first through eighth grades start today; and ninth-graders have a half-day today. Grades one through 12 have a regular schedule day Thursday, and half of the kindergarteners start, too — split up by name. The preschoolers start Monday.
So that's the first post. Watch tomorrow for a newsier offering as the school year gets rolling.
And please get in touch. I'd love to hear from you.
Copyright 2018 The Lawrence Journal-World. All rights reserved. This material may not be published, broadcast, rewritten or redistributed. We strive to uphold our values for every story published.