Former astronaut and Kansas University professor Steve Hawley described Neil Armstrong, who died Saturday at age 82, as a man of exceptional ability and humility and a "model for all astronauts."
"He was an incredibly gracious individual, particularly considering everything he had done," Hawley said. "The accomplishment he made was something that hopefully we will all remember forever. He represented the country, and, in fact, humanity in taking the first steps on another world."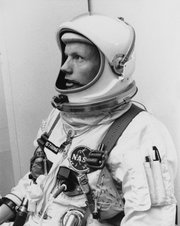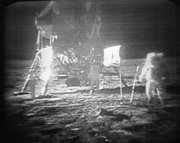 Armstrong, the first person on the moon, had retired before Hawley, who made five space flights from 1984 to 1999, became an astronaut. But Hawley and Armstrong worked together investigating the Space Shuttle Challenger accident in 1986.
On another occasion, after a ceremony dedicating the Astronaut Memorial at Kennedy Space Center, Hawley attempted to say hello to Armstrong. Armstrong was surrounded by a crowd of people, and Hawley wasn't even sure Armstrong would remember his name.
"As I got close, I said, 'Well, I won't bother him.' But he looked up and he saw me, and he said 'Hi, Steve,' and waved to me. I looked back and said, 'Hi, Neil'. He didn't have to do that, but that's the kind of guy he was."
Hawley said Armstrong was the kind of person who realized the moon landing wasn't his achievement, but the achievement of the tens of thousands of other people who labored on the project — that he was a member of the team, not an individual.
"That was always something I looked for when we hired new astronauts," Hawley said.
Hawley said Armstrong had, in part, inspired him to work at NASA but might have inspired him more on what he did after retirement.
"He left and went back to his alma mater and taught," Hawley said. "I said, 'When I retire, I want to do that.'"
Copyright 2018 The Lawrence Journal-World. All rights reserved. This material may not be published, broadcast, rewritten or redistributed. We strive to uphold our values for every story published.