Football coach Dirk Wedd stood in the south end zone at high noon Saturday at Lawrence High Stadium and blew his whistle.
Photo Gallery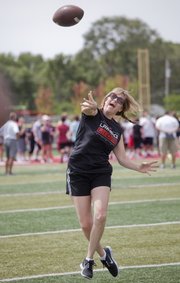 Lawrence High Football Mom's Camp
Moms gathered with their sons for the annual Lawrence High School Mom's Camp with the Lions football team Saturday, Aug. 18, 2012. The moms, and at least one grandmother, ran drills and sprints with their Lion kin.
With that signal, the players knew it was time to circle up and get started.
If they didn't sprint to their coach as quickly as usual on this particular day, they could be forgiven. Not everyone in attendance was accustomed to the practice routine. At the Lions' sides were some special guests — their mothers.
Wedd added Mom's Camp to the LHS preseason schedule a few years back, and its popularity has grown each season. About 70 moms and other family matriarchs learned about blocking assignments, receiving routes and footwork, among other things, with their favorite Lawrence football players helping them each step of the way.
To give the women a glimpse of the punitive side of the game, Wedd began the session by staging a scene. Senior Jordan Brown and his mother, Erica McDiffett, walked onto the field about a minute late, seemingly drawing the coach's ire. In reality, Wedd approached the running back and his mom beforehand and asked if they would come in late to serve as an example.
Wedd barked at the tardy pair and had each of them get down on all fours to push a pad 20 yards. McDiffett pulled it off nearly as easily as Brown, drawing the applause of the rest of the LHS crew.
"She can handle her own," Brown said of his mom. "She definitely wears the pants in the family."
The senior and his mother happily played their roles in the skit.
"We really stress on being a team, and everybody should be together and come in on time as a team," Brown said. "Hopefully a little bit of punishment gets your mind right and helps you."
The mock discipline marked the most intense moment of a lighthearted afternoon when coaches didn't mind if their players (the moms) suffered through some pre-snap confusion, dropped a pass during a drill or wore their sunglasses the entire practice.
Wedd said the annual event has helped get families more involved with the LHS program.
"The kids enjoy it as much as the moms, and I think you can throw the dads in, too," the coach said.
In fact, Mom's Camp could just as easily have been called Dad's Photography Day, with the men toting cameras and phones while circling the field in an attempt to capture all the action.
Saturday marked the third camp for the mother of senior receiver Erick Mayo, Lori Howell, who said she gained a new level of respect for her son's work on the field.
"It's a great time coming out and spending time with the boys," Howell said, "and learning their stuff like they do with the kids they play with."
Paige Hofer, senior receiver Drake Hofer's mom, enjoyed not only meeting the other mothers but being on the LHS football field.
"I know that's where Drake loves to be," she said.
Brown called the 45-minute workout prior to an afternoon scrimmage a brief vacation from football. He couldn't have been happier to share it with McDiffett.
"She's a nice mom," Brown said. "I love her."
Copyright 2018 The Lawrence Journal-World. All rights reserved. This material may not be published, broadcast, rewritten or redistributed. We strive to uphold our values for every story published.