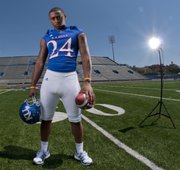 When it comes to photographing in low light, people using point-and-shoot cameras are limited on controlling the quality of their light output.
The typical P&S; camera has only a low-powered pop-up flash that directs its light straight ahead. This is the least flattering kind of flash in low light. If you use a digital single-lens reflex (DSLR), you have more options.
While some DSLRs come with a pop-up flash, their big advantage is the hot shoe, the small mounting bracket at the top of most DSLRs. From this hot shoe you can attach all sorts of equipment to improve your flash photography in both daylight and low light. Here are some techniques and tools for better lighting with DSLRs:
• A hot-shoe-mounted flash is the simplest and cheapest way to improve artificial lighting on a DSLR. But you need to get one that has a tilting head. By tilting a flash head and bouncing light off ceilings or using diffusers on your flash, you spread the light more evenly, creating a much softer and more pleasing effect. Look for flash units that match your brand of camera, and set your flash on automatic or through-the-lens (TTL) metering. This will ensure that you get proper exposures using flash, even when you are bouncing or diffusing your light. Various off-brand diffusers can be found that fit over many popular flash models. Check out stofen.com.
• Flash cords are available that attach to the hot shoe at one end and your flash at the other. This gives you the option of holding your flash above or to the side of nearby subjects or placing your flash several feet away on a light stand. Either method provides off-axis light that is an improvement over direct flash. But I can tell you from experience that holding a flash on a cord with one hand up in the air, while you frame and photograph with a camera in your other hand, is awkward at best. But for stationary objects, like close-ups of flowers, this method provides nice lighting. By using a light stand and a special light-stand bracket, you can mount a flash and an umbrella. By firing the flash into the umbrella, you are again diffusing the light, but in a much more controlled and directed way.
• For the ambitious lighting adventurer, get two flash units that have built-in remote sensors. A built-in sensor means you can fire one flash from your camera, and, within a certain distance, your second flash with a sensor will trigger simultaneously. The problem with most built-in remote sensors is that light from any other flash will inadvertency fire the sensor's flash.
For the next couple of weeks we'll explore artificial lighting and some of the ways we use these techniques and tools at the Journal-World. For further reading, check out these great resources: joemcnally.com/blog/ and strobist.blogspot.com/.
Copyright 2018 The Lawrence Journal-World. All rights reserved. This material may not be published, broadcast, rewritten or redistributed. We strive to uphold our values for every story published.