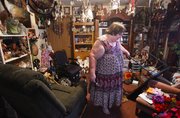 Patti Essman, who suffers from a host of health problems, says her life would be a lot better if she received some assistance from the state.
"I'm a mess," said Essman, who is 58 and lives in Lawrence. "I need to find a junk yard where I can find some parts where I can get overhauled."
Essman is among more than 8,500 Kansans who are on waiting lists under the Medicaid program for home and community-based services for people with physical and developmental disabilities.
She has been waiting for more than two years.
Essman, who lives alone, has difficulty walking and has suffered numerous falls. When she goes outside, she generally uses a wheelchair. She has heart problems, diabetes, fibromyalgia and other ailments.
"I mostly need someone who can come in and do the things I can't, like doing dishes, sweeping and mopping the floor," she said.
Advocates for people with disabilities are trying to get the Kansas Legislature and Gov. Sam Brownback to increase funding to serve more people and reduce the number waiting for help and the length of time they must wait.
Tim Wood, manager of the End the Wait campaign in Kansas, said that since 1997, there have been few legislative sessions where the Legislature has increased funding for the programs.
"We've had some success, but there is a long way to go," he said.
During the last session, the Legislature and Brownback provided additional state funding for both the physical and developmentally disabled waiting lists.
For people with physical disabilities, the program increased by about $2 million in state general funding. And the program for Kansans with developmental disabilities increased by about $3.4 million in state general funding, according to statistics provided by the Kansas Legislative Research Department.
But the backlog is becoming "alarming" and "overwhelming," Wood said.
Meanwhile, the federal government has entered the picture, investigating complaints that the state is violating the civil rights of people who are waiting for help.
Advocates for people with physical disabilities have been filing Olmstead complaints, based on a U.S. Supreme Court decision that says states must provide services to people with disabilities to enable them to be more integrated in the community.
Earlier this year, negotiations between the Brownback administration and officials with the U.S. Department of Health and Human Services broke down. HHS then forwarded the waiting list complaints to the U.S. Justice Department, which "has made enforcement of Olmstead a top priority."
Meanwhile, Essman said she will continue waiting.
"I try to stay as independent as I can. I'm not ready to give up. I'm still trying to manage," she said.
Copyright 2018 The Lawrence Journal-World. All rights reserved. This material may not be published, broadcast, rewritten or redistributed. We strive to uphold our values for every story published.