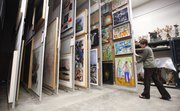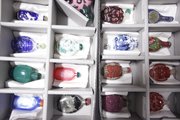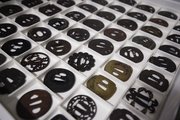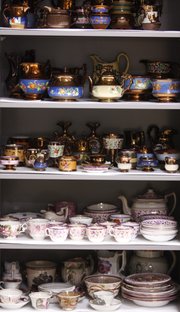 Walk-ins welcome Fridays
Each Friday, the Spencer Museum of Art opens its Print Room to the public. Visitors can request a print, drawing or photograph, and view it up close. Hours are 10 a.m.-noon and 1 p.m.-4 p.m. The museum is at 1301 Miss.
The museum boasts a strong collection of works on paper, particularly northern and Italian Renaissance prints, 17th-century prints, Japanese prints, and 19th- and 20th-century prints, drawings and photographs.
If you think there's a lot to see at the Spencer Museum of Art, you should see what it has in storage.
On a typical day, roughly 1,300 art objects are on view throughout the galleries. Hidden away — in meticulously indexed containers and acid-free packing — are some 37,000 more, including thousands of pieces that have never been displayed since the museum opened more than 30 years ago.
It's not that the museum is trying to keep them a secret.
In fact, more than ever before, the Spencer is undertaking efforts that will enable more objects see the light of day. But a combination of factors, from light sensitivity to what's in fashion, determine how to use the coveted real estate on the museum walls.
"If we had miles of display space, we wouldn't want to put all the collection up at a time," says Kate Meyer, assistant curator of works on paper.
Treasure trove
The Spencer has two main storage areas: one in the museum and one in Spooner Hall. And it's a big part of Sofia Galarza Liu's job to keep track of everything in them.
Galarza Liu, collection manager, says holdings have more than doubled in size in the past 30 years.
Especially as the number of works grows, it's critical to be able to look up what the museum has in its collection — information that's accessible to anyone — and precisely where each item is stored — details about which, for security reasons, are kept secret from everyone but Galarza Liu and a small circle of museum staffers.
To help, there's a comprehensive database and, at least at the Spencer, a high-ceilinged, highly organized area with custom-crafted shelves, boxes and drawer-liners even California Closets would covet. Paintings are stored, hanging, on upright sliding panels.
"We are filled to the gills," Galarza Liu says.
Inside, Galarza Liu twists the handle of a locker-like gray cabinet to reveal a trove of shimmering gold, candy-pink and yellow lustreware, a type of English china from the 1800s.
In the next cabinet over, more of the same, totaling hundreds of pieces.
The items were part of Sallie Casey Thayer's 1917 gift that eventually founded Kansas University's art museum. While a few lustreware pieces have been displayed from time to time, Galarza Liu says, most have not been out of storage since the Spencer opened at its current location in 1978.
In other cabinets are drawers housing hundreds of Japanese sword guards, snuff boxes and other small but intricate items with the same story.
"I think of these as some of the hidden treasures," Galarza Liu says.
Picking and choosing
Kris Ercums, curator of global contemporary and Asian art, says most museums wouldn't create an exhibit just for sword guards, round discs warriors placed between their fist and the bottom of their sword blades.
Some are better quality than others, and some are better representations of a family of objects. More likely, Ercums says, a curator would display one or two of the best specimens as part of a broader exhibit.
But that doesn't mean items that don't get displayed are useless.
"That helps to create a really amazing breadth for us to sample," Ercums says.
Also, Ercums says, art genres and staff research interests come and go, which also contributes to what goes on display.
Some of the Spencer's most beloved pieces are on view all the time, and aren't going anywhere in the foreseeable future.
One example is the Master of Frankfurt Workshop's painting of Christ's deposition, now part of the Corpus exhibition in Gallery 406.
Among other attributes, it's high quality, a rare example of the artist's work, a good representation of the time period and a comprehensive depiction of its subject.
"This is a check mark in every column you can think of," Meyer says.
Also, the Master of Frankfurt piece is oil paint on oak.
Unfortunately, not all artworks are so durable, meaning they must be stored far more than they're displayed.
"It's important to remember, we're in the business of forever," Meyer says.
Works on paper — drawings, prints and photographs — may be some of the most popular pieces, but they're also some of the most sensitive. Light deteriorates them, and they must be stored flat in a humidity controlled environment, Meyer says. Handling the items also can leave oils that can be harmful.
While sturdier pieces may be on display for decades, works on paper are usually displayed for only a few months.
More exposure
Even the museum's "hidden treasures" aren't toiling in obscurity as much as they once were.
In the past decade, the Spencer digitized much of its collection. While you can't see all of them in person, you can find photos of digitized works online, via spencerart.ku.edu.
One place you can see the stored art in person — at least works on paper — is in the Spencer's Print Room. The room is now open to the public on Fridays, and Meyer can pull anything in the collection upon request. It's a lot of work, Meyer says, but it gives patrons the opportunity to see minute details of a print or the scale of an artist's sketch that aren't conveyed in an online image.
"We're bending over backwards to try to share the collection with people, because people are so excited about seeing it," she says.
Finally, the museum's Project Redefine not only mixes up permanent exhibits but also creates opportunities for more turnover in the collection.
For example, the Corpus exhibit — featuring artworks grouped by theme from birth to death — has entire walls of works on paper that will be switched out every few months, even as paintings and sculptures stay put around them.
The "Empire of Things" exhibit, hoped to open by the end of the year, will finally display some of those decorative items that haven't been in fashion for a while, including some from the lustreware cabinet in storage.
And, Ercums says, the main floor — Center Court and the surrounding galleries — now gets transformed every few months.
"We wanted to make the Spencer into a place that was dynamic," Ercums says. "If you don't stay up with us, then you're going to miss an opportunity to see something you've never seen."
Copyright 2018 The Lawrence Journal-World. All rights reserved. This material may not be published, broadcast, rewritten or redistributed. We strive to uphold our values for every story published.