A lot has been made about Kansas University football coach Charlie Weis upgrading KU's quarterback position by bringing in two former five-star QBs with Div. I experience and a junior-college transfer who has won everywhere he's been.
As it turns out, Weis might have had more to work with than he initially thought, and the first-year coach was more than happy to point that out after Saturday's 45-0 victory by the Blue squad in KU's annual spring game.
"Too many times, people get stereotyped," Weis said of red-shirt freshman QB Michael Cummings, who quarterbacked the White team on Saturday and finished 2-of-7 for 14 yards and added 23 yards on the ground on seven carries. "People want to say, 'Mike is the athletic quarterback.' Well, Mike has a cannon for an arm. He's not tall, but he has a cannon for an arm. Him throwing the ball is not the issue. His experience is the issue, but he's a freshman. He's only been here one year. So that's part of the process. He can make every throw. Now we have to get him more fine-tuned in running the offense."
Photo Gallery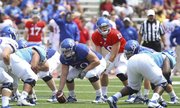 KU Spring Game
More White team highlights
Speaking of good things from KU's White squad, former first-string tailback James Sims, who has fallen down the depth chart because of an off-the-field incident that resulted in a three-game suspension, ran hard throughout the day on Saturday behind KU's second-string offensive line. Sims averaged 4.1 yards per run, finishing with 58 yards on 14 carries.
In addition, cornerback Corrigan Powell led all defensive players with eight tackles, while Dexter Linton and Ray Mitchell added five stops apiece. For the Blue team, sophomore Ben Heeney led with seven tackles and senior Lubbock Smith added six.
Names are back
Although the defensive linemen wore light blue jerseys to indicate they played for both sides on Saturday, their inclusion simply hammered home one important fact — last names have returned to the backs of KU's uniforms.
All four colors unveiled on Saturday — red, white, royal blue and light blue — had last names on the backs, replacing the small Jayhawk that former KU coach Turner Gill had placed there during the past two seasons.
Weis a Fambrough fan
In a long-awaited gesture to honor one of the biggest supporters of the Kansas football, city and KU officials and a crowd of more than 150 fans gathered at the corner of 11th and Maine two hours before Saturday's kickoff for the unveiling of the now-named street signs of Don Fambrough Drive and Don Fambrough Way.
After the game, Weis was asked for his thoughts on honoring Fambrough, who passed away last September.
"I think it's pretty cool when somebody's greatest passion is to detest your most notorious rival," Weis said, referring to Fambrough's famed hatred of Missouri. "I think that's always a good thing. Not knowing the guy, I think that we would have gotten along just fine."
McCay update
Sophomore receiver Justin McCay played a limited number of snaps and went without a catch during Saturday's game. Afterwards, Weis gave another update on the Oklahoma transfer's eligibility status, which remains in limbo pending the results of an appeal to the NCAA.
"The never-ending saga," Weis joked. "But they told us by May 2. Just like I said last time, as soon as I hear something, he'll know about it first, and then I'll get it out there as quickly as I can."
Asked if he was optimistic about McCay being granted a hardship waiver, which would allow him to play immediately, Weis voiced his frustration and confusion about the NCAA's original ruling.
"When they sit there and say 'We're saying no now, but this is what you should do,' I think that they would like for this to be yes," he said. "That's what I think."
Copyright 2018 The Lawrence Journal-World. All rights reserved. This material may not be published, broadcast, rewritten or redistributed. We strive to uphold our values for every story published.