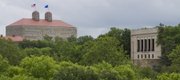 Subscribe to the email edition of Heard on the Hill and we'll deliver you the latest KU news and notes every weekday at noon.
Your daily dose of news, notes and links from around Kansas University.
• I enjoyed this article about a KU English graduate who found a way to work some creative writing into his job in a pretty creative way.
Eric Wahl, 42, wound up working at the University of Washington's Surplus Store.
And one of the things he does there is write up descriptions for items sold online. Those descriptions have attracted something of a following. Here's one he wrote for a time-stamp machine selling for $5.
"The award for Coolest Looking Gadget this week goes to this funky RapidPrint machine. What does it do? My money's on: 'prints things rapidly.' Actually: it's a time-stamp machine. Sweet! 'So, everytime I wonder what time it is I just put a piece of paper into this machine and presto, it tells me! I wish I could put something like that around my wrist!'"
People seem to enjoy reading his descriptions, and they've meant more online following and brisk business for the store. Much more (including more descriptions) at the Seattle Times story.
Of course, not everyone with an English degree takes this path, but it's nice to see someone do well using the skills they have.
• The Kansas Board of Regents is meeting in Wichita today, where they're expected to announce the next president of Wichita State University.
The person is replacing Donald Beggs, who has been president there since 1999. Beggs is retiring this year.
Just to show how often university presidents are shuffling in and out in Kansas these days, KU Chancellor Bernadette Gray-Little has been in her job almost as long or longer than most of the state university presidents in Kansas.
She started at KU on Aug. 15, 2009, 45 days after Kansas State's Kirk Schulz and Pittsburg State's Steven Scott. Since then, both Emporia State and Wichita State have changed presidents.
The dean of the presidents in Kansas is Fort Hays State's Ed Hammond, who has been serving in the post for 25 years.
And speaking of presidents — for those who didn't see the updated Heard on the Hill version yesterday — I did hear back from Jeff Vitter, KU's provost, after yesterday's post. I had speculated that he might be a someone that Purdue was interested in, but he informed me that he had never been a candidate for the position.
• KU announced the winners of the Snyder Book Collecting contest, a prize that students can win by submitting small collections of books and other materials, along with an essay and bibliography detailing how they all tie together.
Allie Alvis, a junior from Wichita, won first place in the undergraduate division with "Language and Linguistics: How Words Changed My Life."
Laci Gerhart of Hutchinson won the graduate division with "The Evolution of Scientific Knowledge: Vintage and Antique Textbooks of the Natural and Physical Sciences."
Other entries in the contest that performed well had collections on the topics of subversive printing in Girard, South African letters and non-narrative filmmakers.
The winners each get $600 and a $100 certificate for the KU Bookstores.
• My collection of Heard on the Hill columns entitled, "The Greatest Tips I've Ever Received at ahyland@ljworld.com," wasn't quite good enough for one of those Snyder awards, apparently, but I'm confident we'll win next year if you keep sending in great tips.
Copyright 2018 The Lawrence Journal-World. All rights reserved. This material may not be published, broadcast, rewritten or redistributed. We strive to uphold our values for every story published.