"Can I play?"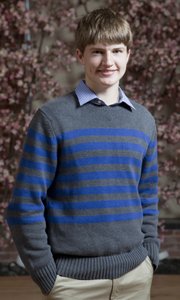 It was one of the few English phrases that Ruben Ghijsen knew when he moved from Zeist, Netherlands, to Lawrence in fifth grade. He put the phrase to use on his second day at Hillcrest School when he spotted his classmates playing baseball.
"I missed it like three times in a row. I had no idea how to do it," Ghijsen said of his first at-bat. "But they showed me how to do it, and later in the day I was finally able to hit the ball."
Sports was just one way Ghijsen learned to connect with his new American classmates.
"For me it was difficult to kind of start fitting in, and I mainly did that through playing sports," he said.
As a senior at Free State High School, Ghijsen believes his early years in Lawrence molded him into an adventurous and outgoing person who isn't afraid of new experiences.
"It makes you a little bit more open," Ghijsen said.
Judges for this year's Journal-World Academic All-Stars selected Ghijsen as the top student among the more than 20 students who were nominated by their schools. As part of the award, Ghijsen will be given a $500 scholarship from the Journal-World.
From his first year in Lawrence, when he focused on learning English, Ghijsen has gone on to excel in soccer, playing the violin and engineering.
Free State Spanish teacher Stuart Strecker describes Ghijsen as a humble kid with a great work ethic and a flair for fun.
"I would just say he brings a sense of humor (to his work) when he gets a chance. With open-ended creative assignments, he puts a humorous twist on it," Strecker said.
Strecker, who has had Ghijsen for two years in Spanish class, said Ghijsen has earned the respect of other students and is appreciated for the way he treats them.
"He leaves you with a really nice impression," Strecker said.
Along with being a co-captain on the Firebirds' soccer team, Ghijsen is president of the school's engineering club. His team has won several competitions at Kansas University's Engineering Expo.
Motivated by his best friend, Lucas Mehl, who has muscular dystrophy and uses a wheelchair, Ghijsen wants to become a biomedical engineer and make medical devices that improve people's lives. One of Ghijsen's first friends in Lawrence, Mehl taught his new friend about American culture and the English language. They've been best friends ever since.
"It would be a great experience to do something to make his life better," Ghijsen said.
AP physics teacher Oather Strawderman has no doubt Ghijsen will do well in college, no matter where he goes. Strawderman describes Ghijsen as a passionate, thorough and engaged student.
"The thing that I always think about for how successful students will be, it is not how smart they are, which Ruben is, but how good of a worker they are. And Ruben definitely has that high work ethic that is vital for success and college," he said.
School: Free State High School
Grade-point average: 4.0
Class rank: 1 of 357
Parents: Rudy Ghijsen and Margot Versteeg
College and career plans: Wants to study engineering and become a biomedical engineer. Hopes to find a job abroad.
Copyright 2018 The Lawrence Journal-World. All rights reserved. This material may not be published, broadcast, rewritten or redistributed. We strive to uphold our values for every story published.