A perfect grade-point average in high school didn't do much good in setting apart the Journal-World's 2012 Academic All-Stars.
Nearly all of this year's nominees had a GPA of 4.0 or higher
Ten seniors from nine high schools have been designated by the Journal-World as Academic All-Stars. And what made this year's honorees stand out were the many ways in which they excelled outside the classroom.
Three of them were band leaders, one was a disc jockey and another a concert violinist. Several were president of their classes and captains of sports teams. Two had advanced to the national debate tournament, and another was active in 4-H.
All of them were involved in so many activities that the judges were left to wonder how they had time to make such good grades.
"The diversity of what they do, I don't know how they have enough hours in the day," said Rand Ziegler, who is vice president and dean of the College of Arts and Sciences at Baker University in Baldwin City and one of this year's three judges.
Since 1997, the Journal-World annually has honored one class of outstanding students. The students are chosen based on their academic records and extracurricular activities.
Last week, the students were honored at a luncheon that included sage advice from Neeli Bendapudi, dean of the Kansas University School of Business.
"They are incredibly impressive on many dimensions," Bendapudi said of this year's All-Stars. "Every one of them is going to represent our community and state really, really well."
Adam Brien
A lot more goes into being a disc jockey than pushing play on an iPod.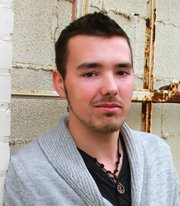 Just ask Oskaloosa High School senior Adam Brien, who spends an hour or two every day practicing the art of flowing smoothly from one song to the next.
"You really have to have a knowledge of music before you get into it," Brien said.
For Brien, whose parents met while in the marching band at Kansas University, music has been an important part of his life. Throughout his high school career, Brien has been involved in his bands, playing the bass and percussion.
His interest in music mixes nicely with his knack for working with computers and has segued into a passion for being a DJ and creating electronic music.
Today, he performs as a DJ for KU fraternity parties and will be the DJ for an upcoming event at the KU residence halls. He offered to DJ his high school prom but was turned down.
"Just being up there and seeing people dance is the main thing," Brien said about why he gets a rush every time he performs. "It's a whole different world. People are sort of paying attention to you, but not really."
What started out as an expensive hobby for Brien has turned into a money maker and now a career path. This fall, Brien will attend the highly selective music engineering technology program at the University of Miami.
To get into the school, Brien wrote three original songs and performed them at an audition in Miami. The pieces involved live looping, which requires the musician to record audio samples of the music and then play that music back, all while preforming live.
A career in music engineering technology could lead to jobs in film scoring or record producing.
"There are a lot of options. It's kind of exciting," Brien said.
School: Oskaloosa High School
Grade-point average: 4.0
Class rank: 1 of 31
Parents: Russell A. and Kimberly R. Brien
College and career plans: Attend the University of Miami to major in music engineering technology. Hopes to work in sound design, music production or film scoring.
Allison Bristol
Allison Bristol can easily pinpoint the moment she decided to give back to her community.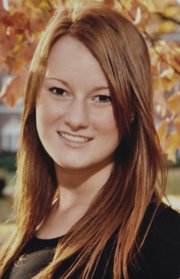 It was when two foster brothers entered her life. Until that time, the McLouth High School senior had been an only child.
"They've taught me to be grateful for the blessings I've been given, and I feel since I've been blessed I should give back to my community," she said.
Those brothers have since been adopted and Bristol has taken part in a host of community service activities in the past few years.
She's volunteered at Winchester Public Library.
"I'm such a big nerd. I like helping younger children pick out books. I got to read stories to them, and I just love seeing kids show an interest in reading," she said.
She spent one summer playing games with the residents at Jefferson County Assisted Living Center. And she has volunteered at the Jefferson County Humane Society and Jefferson County Historical Society.
At school, she's been a part of clubs that organize canned-food drives, community blood drives, Christmas dinners for seniors and creative ways to raise money for a children's hospital.
"I feel like it has made me a better person," Bristol said.
Her passion for community service has translated into a career path.
Next year she plans to attend Washburn University to earn a degree in medical imaging and a minor in leadership studies.
"I believe the field is going to bring together my strength for caring for people and interest in technology," she said.
School: McLouth High School
Grade-point average: 4.0
Class rank: 1 of 51
Parents: Shawn Bristol and Amie Tripp-Bristol
College and career plans: Attend Washburn University, majoring in medical imaging, with a minor in leadership studies.
Charis Fisher
For Charis Fisher, learning a new way to peel a banana opened up her world.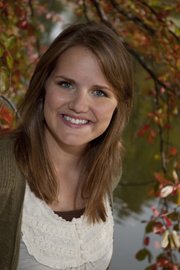 The Perry-Lecompton High School student was an eighth-grader when her family hosted its first foreign exchange student. One day, Fisher spied the Russian student peeling her banana from the bottom up, as folks from her country are accustomed to do.

"It's just cool to see how where you grow up influences everything about you," Fisher said.
Fisher's family went on to host students from Germany, Denmark, Kazakhstan and Ukraine, fostering in Fisher a love for other cultures. She also credits her sixth-grade teacher, who saved money to take an annual trip to a far-away country, with instilling in her an appreciation for history, culture and literature.
"He had all these stories from different countries and would bring in things he had bought there," she said. "It was so exciting."
Next year, Fisher plans to attend Washburn University to earn an undergraduate degree in nursing. During her time there, she would like to participate in the study aboard program.
The youngest of eight children, Fisher said she knew early on that her parents would be hard pressed to help her through college.
"So, I better try hard, better have outstanding talents because that is the only way to pay for college if I don't want to graduate with a lot of debt," she said.
From there, Fisher said she learned the importance of hard work.
"Well, why not give it your all?" she said.
School: Perry-Lecompton High School
Grade-point average: 4.0
Class rank: 1 of 60
Parents: John and Karalee Fisher
College and career plans: Attend Washburn University, majoring in nursing, with a minor in French horn performance.
Louis Joslyn
Whether he's on the soccer field or in a classroom, Baldwin High School senior Louis Joslyn has an undeniable competitive streak.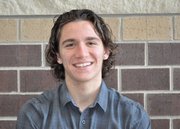 "I would also say I like to just problem solve," Joslyn said. "I like the feeling after solving a problem whether it is math or any aspect of my life."
Much of that competitive energy has been funneled to the soccer field, where he was a four-year varsity starter and captain. This year, Joslyn scored the game-winning penalty kick that captured the school's first regional soccer title.
"It was an amazing experience," he said.
Over time, Joslyn said his competitive nature in sports spilled over into academics.
He's gotten straight A's throughout high school.
"I worked really hard for that," he said.
And, he has placed highly in math competition throughout the state.
"Most of the time, you go into a room with, say, 50 other students and all take the same test," Joslyn said of the competition.
Next year when Joslyn heads to Iowa's Simpson College he plans to continue to compete in both soccer and math.
School: Baldwin High School
Grade-point average: 4.0
Class rank: 1 of 110
Parents: Mark and Mary Lisa Joslyn
College and career plans: Attend Simpson College, where he plans to major in math and play soccer. Hopes to work in the math or science fields.
Philip Kaul and Parker Riley
De Soto High School seniors Philip Kaul and Parker Riley have known each other for longer than both can remember.
Their dads met in elementary school and were roommates in college. The families still vacation together.
So it makes sense that the duo would make a good debate team. But, no one anticipated how well they would work together.
Last year, Riley's partner graduated, so he asked Kaul, who hadn't debated for several years, to be his new one. And the partnership worked. This June, the two are headed to Indianapolis for the national debate tournament.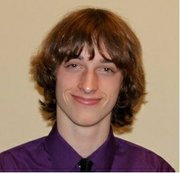 "Something clicked very early in the season," Kaul said. "We did better than anyone thought we would do."
The debate world isn't the only place the two have found success. They are both members of De Soto's scholars bowl team, which won the state championship for the past two years.
A self-described trivia buff, Kaul impressed his teammates during one of his very first competitions by knowing a pugilist was a boxer.
"The coaches had never seen me play and no one knew me," Kaul said. "They said, 'Why on earth did you know that?'"
The two also have been active in Boy Scouts. As part of the public service needed to earn his Eagle Scout rank, Riley organized a project that took old bicycles, repaired them and donated them to people in need. Kaul helped his friend with the project. In all, 15 bikes were distributed.

"It was a big lesson in organization and time management," Riley said.
Of course, the two have had quite a few accomplishments on their own.
As drum major, Kaul enjoyed leading his band this year. The saxophone player plans to attend KU to major in music education and hopes to be a high school band teacher someday.
His career path is inspired by the music teachers in his life.
"Being able to combine my passion for teaching, how much I enjoy the high school setting and how much I love music, all of that just clicked," Kaul said.
As for Riley, an independent study he organized during his sophomore year to learn one of the more common computer programming languages sparked his love for programming. He went on to make a scientific calculator, an unbeatable tick-tac-toe game and a text-based adventure game.
"I really like the idea of being able to create stuff by using a computer," Riley said.
Riley hasn't decided where he'll go to college yet, but is interested in computer security, software engineering and designing programs.
Philip Kaul
School: De Soto High School
Grade-point average: 4.2
Class rank: 1 of 144
Parents: Frank and Nancy Kaul
College and career plans: Attend Kansas University, major in music education. Hopes to be a high school band instructor.
Parker Riley
School: De Soto High School
Grade-point average: 4.2
Class rank: 3 of 144
Parents: Darius and Carol Riley
College and career plans: Attend college and major in computer science. Hopes to work as a software engineer or computer security professional.
Matthew Kelso
As a young boy, Matthew Kelso would spend his afternoon with his grandfather riding in the cab of a tractor or combine. Sometimes, he'd even take his afternoon naps there.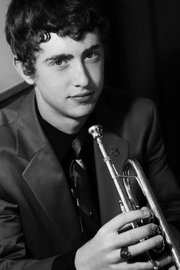 "I loved being on the farm," Kelso said.
That love hasn't faded for the Eudora High School senior.
When his parents moved to a small farm out in the country, they started their own herd with a single Polled Hereford. Over the years, the herd grew to 15 and the farm welcomed new animals, including rabbits and a llama.
It took awhile for Kelso to convince his parents to keep a llama, but the animal was free and could be used as a 4-H project.
"At first they were against it. They didn't think we would get much out it," he said. "Now, it's one of their favorite projects to help with."
Growing up around animals has made Kelso's career choice an easy one. He wants to be a veterinarian and plans to attend Kansas State University to earn an undergraduate degree in animal science.
And his experience with the llama has taught him a valuable lesson: If you respect the animal, it respects you.
"People don't give (animals) enough credit for how intelligent they are," Kelso said.
Along with being an active member in 4-H, Kelso has spent much of his high school career involved in band, scholars bowl, soccer and student leadership positions.
Being the head drum major for the school's marching band since 2010 has helped Kelso develop leadership skills.
"I've gotten a lot better at giving criticism," Kelso said.
School: Eudora High School
Grade-point average: 4.2
Class rank: 1 of 98
Parents: Michael and Robyn Kelso
College and career plans: Attend Kansas State University and pursue a degree in animal science with an emphasis in preveterinary medicine. Work in veterinary medicine and conduct research in canine rabies.
Derek Moore
Wellsville High School senior Derek Moore is glad he has been able to attend a school with a class size of just 57 students.
He is president of both the senior class and student council. He has been captain of the scholars bowl and president of the math team and chorus.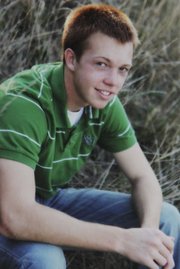 Moore's not so sure he would have had the chance to be involved in so many activities had he attended a larger school.
"There have been a lot of leadership opportunities I might not have had the chance to experience," Moore said.
Of all his leadership roles, Moore said the most valuable ones have been on his sports team. Moore has participated in cross country, basketball and track.
That leadership will be put to use next year when Moore goes to the U.S. Naval Academy. Moore has a good idea of what's in store at the academy since his older brother recently graduated from there.
"Initially, I didn't want to go, I wanted to do something different. But after looking around, it feels like the right place for me," Moore said.

His visits to Annapolis, Md., showed him the camaraderie and friendships the Naval Academy forged.
"It's a tough experience, but it's definitely worth it," he said.
School: Wellsville High School
Grade-point average: 4.0
Class rank: 1 of 57
Parents: Scott and Kim Moore
College and career plans: Attend the U.S. Naval Academy in Annapolis, Md., followed by at least five years in the Navy or Marine Corps.
Anne Reed-Weston
Anne Reed-Weston has been a therapist, mediator and organizer.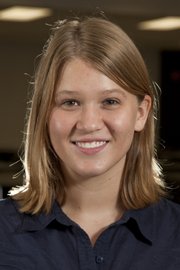 And that's just for the role she has played as the head drum major for Lawrence High School's marching band.
As a clarinet player in the band, Reed-Weston didn't know much about the position until she attended an informational meeting about drum majors.

"I was going through the auditioning process, and I thought 'I might actually like this' and I wound up getting the role. It was great," Reed-Weston said.
In her junior year, she was named an assistant drum major and was made head drum major her senior year. It's a job that requires organization and responsibility.
"I like being a leader and I like making groups function well," Reed-Weston said. "And I knew it would help me get to know a group of people really well."

She oversaw a band with a 140 members and has two assistant drum majors to help. And while she misses not being able to play the clarinet on the field and being part of a section, she's glad she took on the role.
"I've had a bunch of opportunities that I couldn't get otherwise," Reed-Weston said.
Reed-Weston plans to attend Dartmouth College and study biology. She is interested in either becoming a physician or doing genetic research.
When not in school, Reed-Weston likes to volunteer at the Lawrence Humane Society, from where her parents have adopted a number of pets. Or, she goes horse back riding as a stress reliever from school.
School: Lawrence High School
Grade-point average: 4.1
Class rank: Not provided
Parents: Timothy Weston and Marianne Reed
College and career plans: Attend Dartmouth College and plans to study biology. Hopes to become a physician or do genetic research.
- Community editor Caroline Trowbridge contributed to this report
Copyright 2018 The Lawrence Journal-World. All rights reserved. This material may not be published, broadcast, rewritten or redistributed. We strive to uphold our values for every story published.