When John Bergman's friends asked him how his "Army thing" went, he found it a little difficult to answer.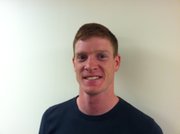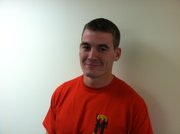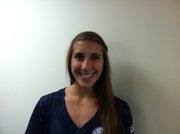 Bergman is a senior from Lawrence in Kansas University's Army ROTC program. His "Army thing" was the ROTC program's 18th annual Ranger Buddy competition.
For starters, he and his partner, Stuart McConnell, a sophomore from Newton, had won the male division of the competition. And fellow cadets Madeline Wilcox, a sophomore from Leavenworth, and Sarah Meyer, a junior from New London, Iowa, won the female competition.
That can be explained easily enough, but describing what it took to get there is a little tougher.
For starters, the Ranger Buddy competition was designed as a way for cadets to test their mettle against ROTC members from other schools. Teams from 28 colleges and universities in 12 states took part in this year's competition at Clinton Lake.
"We made it as muddy as we could," said Master Sgt. Chad Brown, who helped organize this year's competition.
It started at 5 a.m. with a 15 kilometer, or 9.3 mile, march while loaded down with a 30-pound rucksack. Then teams competed in eight miniature obstacle courses featuring physical and mental challenges. The day ended with a 5 p.m. 10-kilometer, or 6.2 mile, run.
"The toughest part is not just dying halfway in," McConnell said.
But don't discount the other part of the competition either, the competitors said.
"The mental thing is definitely there," Wilcox said. "Sarah was definitely there to push me when I needed it."
This year, 130 teams from 29 schools in 13 states attended the competition designed for pairs of cadets — in a male-male division, a coed division and a female-female division.
Bergman and McConnell won the event last year, too.
A group of cadets who participated said the training was the key, crediting Sgt. 1st Class Troy Brin, who served as something like the group's coach.
They all trained six days a week starting at 5:30 a.m., with additional sessions in the afternoons.
"That takes some intestinal fortitude," said Lt. Col. Storm Reynolds, professor of military science. "These are college students," who are balancing their ROTC work with their academic studies and the rest of the demands of college life.
The cadets said the training helped shape them into the competitors who were able to complete the task in front of them. Bergman and McConnell were both Eagle Scouts, which they said helped, too.
"We're definitely the same people" as in high school, Bergman said, but now they have to take themselves to another level.
Reynolds talked about that, too.
"We try to bring in cadets that already have some basic building blocks in terms of being scholars and athletes," he said. "We help develop that potential."
Bergman said he was glad he was able to represent his university well.
"I just wish they could see it," Bergman said of his friends.
Copyright 2018 The Lawrence Journal-World. All rights reserved. This material may not be published, broadcast, rewritten or redistributed. We strive to uphold our values for every story published.