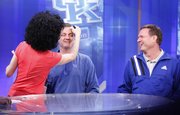 The NCAA Tournament, and more specifically the Final Four, can be regimented to the point of peculiarity.
There are rules to follow, places you can go, places you can't and plenty of people who are paid to make sure you know the difference. They even regulate what cups you can drink out of when you are out on the arena floor, but that's another column for some other time.
Photo Gallery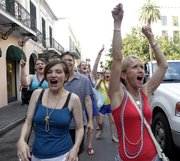 KU Parade in the French Quarter
Photo Gallery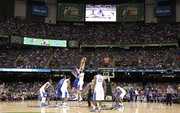 Kansas v. Kentucky (National Championship)
Everyone shuffles in and out of the press conferences and practices at the same time. Distinguishing one's work from the pack can be difficult when everywhere you go there are at least 10 to 20 other people who are looking for the same photo or angle you are.
Not much was happening the day before the championship game other than a couple of press conferences. The media schedule showed five players from Kansas and five from Kentucky along with coaches appearing at separate times. Between the two press conferences, however, was a joint CBS interview with John Calipari and Bill Self on the other side of the Superdome.
I decided to head in that direction in the off chance of finding the two engaged in a heated arm-wrestling battle outside of the interview room. No such luck.
After sliding through the door I saw Calipari sitting at a table while camera crews worked around him getting set up. Self had not yet arrived. I tried to remain quiet until a Reuters photographer noticed me and said the interview was off limits unless I was a wire service photographer. Being quite certain that this meeting between the two coaches could be the only interaction worth shooting for the whole day, I protested a bit. After a little back and forth between the two of us I apparently annoyed him into submission because he turned around as to ignore me as Self walked into the room.
The coaches greeted each other with smiles, joked and laughed while getting powdered for the CBS camera. They looked like a couple of guys just talking shop and not the same two I'd seen time and time again before the larger press corps. The moment wasn't spectacular, but it was fresh and I was glad to see that there weren't 20 other guys firing off frames over my shoulders.
Whenever I'm feeling a bit claustrophobic in these media-saturated situations I remember a quote I read from Jonathan Ive, Apple Inc.'s senior vice president of industrial design. He said, "It's very easy to be different, but very difficult to be better."
I think most people in any sort of creative field come to realize what he's talking about at some point in their careers and likely through moments of frustration. And sure, I get it. But on a day of nothing but boring press conference photos, different starts to look pretty darn good to me.
Copyright 2018 The Lawrence Journal-World. All rights reserved. This material may not be published, broadcast, rewritten or redistributed. We strive to uphold our values for every story published.