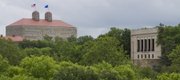 Subscribe to the email edition of Heard on the Hill and we'll deliver you the latest KU news and notes every weekday at noon.
Your daily dose of news, notes and links from around Kansas University.
• Each year, as graduation approaches, one of my favorite things to do is the annual profiles of graduating students who have done great things.
However, before I write about graduating students who have done great things, I need to find graduating students who have done great things.
I have a few ideas, but I could always use the help of Heard on the Hill tipsters, who I find are often smarter than I'll ever be.
So, if you know someone who's graduating and awesome, let me know at ahyland@ljworld.com. Be sure to tell me who they are and why they're awesome.
Here's one from the past (Jessica Roark died about a year after this story, by the way, and I still think of her from time to time.)
• Here's an interesting article about the state of dental education in Kansas.
Kansas, as you probably know (but maybe you don't?) has no dental schools. An arrangement allows Kansas students to attend the University of Missouri-Kansas City's dental school for an in-state tuition rate.
A report from the Kansas Board of Regents in 2010 noted that UMKC's school saves 85 slots for Kansas students, and they have historically filled all the spots.
Fort Hays State, however, is considering a program that would train midlevel dental providers — someone between a hygienist and a dentist — to help fill the "dental deserts" that exist in the western part of the state.
I found lots of other interesting perspectives in that article, too, including from other dental organizations.
• Nick Benson, a KU junior, has received the Kansas Department of Health and Environment's Kansas Environmental Steward Award.
Benson has done quite a bit of work on the environment and sustainability during his time on campus, including serving as vice president of the KU Environs student group, vice chair of the Student Environmental Advisory Board and on the city's Sustainability Advisory Board.
Benson has pioneered a number of different efforts on campus, including this push to institute recycling at Memorial Stadium, as covered by colleague extraordinaire Christine Metz.
• I can't train you to be a dentist, either, but I can take your tips for Heard on the Hill at ahyland@ljworld.com.
Copyright 2018 The Lawrence Journal-World. All rights reserved. This material may not be published, broadcast, rewritten or redistributed. We strive to uphold our values for every story published.