Photo Gallery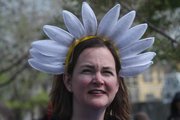 Earth Day Celebration
Dressed as a giant rain drop, Tyler Trarbach was the only bad weather present at Saturday's Earth Day Celebration in South Park. Trarbach, who was encouraging people to visit displays on water-quality issues, was among the many who dressed in costumes promoting a cleaner, healthier world.
With painted-on whiskers and a hat with ears, Nick Benson, a member of KU Environs, was making notebooks out of old cereal boxes and 100 percent recycled paper.
"Kids love it," he said, and noted it was a way to show people how to use something they would typically throw away. "It's reduce, reuse, recycle with recycling being the last option," Benson said.
Other folks wore plastic bags, bottle tabs and even a compact fluorescent light bulb in recognition of Earth Day.
Organizers said more than a thousand people came to Saturday's celebration, which had about 75 earth-friendly booths lined up in South Park.
"This is the largest crowd we have seen in the afternoon," said organizer Kathy Richardson, who is head of the city of Lawrence's waste reduction and recycling operations. "The weather is perfect."
As usual, folks lined up to try out the all-vegan food prepared by the Animal Outreach of Kansas.
This year's feast included coleslaw, a faux chicken salad dish, beans, four different pasta salads, three different kinds of potato salad, a "better than tuna salad" and, of course, the crowd's favorite: vegan cupcakes, brownies and cookies.
"What we want to do is show how delicious vegan food is and how easy it is to go vegan," said Ann Wilson, one of the founders of group. "It takes the scariness away from the V word."
Also a success was Complete Streets' bike valet service. People who rode their bikes to the celebration could leave them with the organization without having to lock them or worry about having them stolen or damaged.
Volunteer Charlie Bryan said he heard that bike valets in other cities had about 2 percent of the crowd use the service. Midway through the afternoon, Bryan said the group had already reached that goal. And Bryan was told that many would be happy to see it at more local events.
Copyright 2018 The Lawrence Journal-World. All rights reserved. This material may not be published, broadcast, rewritten or redistributed. We strive to uphold our values for every story published.