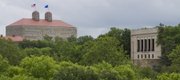 Subscribe to the email edition of Heard on the Hill and we'll deliver you the latest KU news and notes every weekday at noon.
Your daily dose of news, notes and links from around Kansas University.
• Now that the NCAA tournament is in the books, the social media news blog Mashable took a look back at how often users of Twitter mentioned various NCAA games and teams.
As it turned out, Norfolk State's upset over Missouri in the round of 64 was the most-talked about game for that round. (I may have contributed to that, myself).
Monday's championship game saw 745,000 tweets for that game alone. What surprised me was how large the jump was from Saturday's semifinals, where KU got just shy of 4,000 mentions, to Monday's final, when KU saw more than 97,000 tweets.
There's a spiffy infographic with lots more information at the link.
• KU's external research funding increased again, with expenditures up 6.9 percent to $240.7 million in the year ending June 30, according to a statement from KU.
This figure has gone up for the past several years. That's good news, but for the the current fiscal year, stimulus funds have dropped out of the picture, and the budget picture for federally funded research is often a little dicey these days.
So while this is an interesting number to look at for now, I will be really curious to see how KU does next year, when it's competing in a much more competitive environment. And I know I won't be the only one, too.
• The David Ambler Student Recreation Fitness Center has announced the finalists for the names for its climbing wall.
(My previous suggestion of Mortimer P. Wall didn't make the cut, sadly).
They got five real suggestions after a video contest, and a panel has narrowed that list to three, with public voting on its Facebook page.
The top three names are: Jay Rock, Chalk Rock and Wilt "The Stilt" Chamberlain.
So if naming walls is your thing, you can go vote. The student who wins will get a whole bunch of gift cards from Fuzzy's Tacos, McAlister's Deli, Liberty Hall and Pizza Shuttle.
• I guess the only reason Mortimer P. Wall didn't make it was that I didn't follow the instructions and make a video. I hope that doesn't keep you from sending me those good tips for Heard on the Hill to ahyland@ljworld.com.
Copyright 2018 The Lawrence Journal-World. All rights reserved. This material may not be published, broadcast, rewritten or redistributed. We strive to uphold our values for every story published.