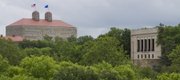 Subscribe to the email edition of Heard on the Hill and we'll deliver you the latest KU news and notes every weekday at noon.
Your daily dose of news, notes and links from around Kansas University.
• The University Daily Kansan is reporting that discussion on student fees is coming up soon.
No major hikes are expected, the newspaper reports, but the fees have been creeping slowly upwards for some time.
In fact, the Kansan reports that fees have gone up 13 percent since the 2007-08 school year, when they were $377.75 per semester, to today's $428.95.
Fees fund all kinds of stuff, including paying for the David Ambler Student Recreation Center to the newspapers students on campus can pick up for free each day.
The largest fee, $108.80 per semester, primarily funds Student Health Services. The tiniest fee, at $2.50 per semester, goes to KJHK, the student radio station.
Here's a complete breakdown.
• And speaking of the David Ambler Student Recreation Center, here's a new one on me.
They're looking for a name for that rock climbing wall they've got inside the fitness center.
Personally, I've never seen a rock wall with a name, and I wouldn't even begin to know what to call it (Big Rock Candy Mountain? Far Above the Golden Rock Chalk I'm a Jay, Jay, Jayhawk Wall? Mortimer P. Wall?).
But if you're a KU student and you've got better ideas than me, you can whip up a video and submit it to the rec center folks and see if you can get your name on the wall.
More details here on the rec center's Facebook page.
• A philosophy professor and business ethics expert is scheduled to speak at Woodruff Auditorium in the Kansas Union on Thursday.
Patricia Werhane will present "Globalization and Its Challenges for Business Ethics in the 21st Century" as the 2012 Sutton Ethics Lecture at 6 p.m. Thursday.
She is the chair of business ethics and managing director of the Institute for Business and Professional Ethics at DePaul University.
Her talk will include a discussion of "creative capitalism," which encourages global businesses to balance corporate profits with the needs of poor countries where they operate, and will present models of "profitable partnerships" that benefit both companies and communities.
• I don't know if we're going to get to call the wall Mortimer, but you can call my email inbox anything you like as long as you keep submitting your tips for Heard on the Hill to ahyland@ljworld.com.
Copyright 2018 The Lawrence Journal-World. All rights reserved. This material may not be published, broadcast, rewritten or redistributed. We strive to uphold our values for every story published.