A Free State High School counselor died early Monday in a car-train collision just north of Lawrence, said Sgt. Steve Lewis, a Douglas County Sheriff's spokesman.
Lewis said that about 2:20 a.m. Aimee Ziegler drove her westbound silver Honda car around crossing gates and onto the tracks, where it was hit by a southbound Union Pacific train near North 1800 Road and East 1450 Road, just east of the Riverfront Park in North Lawrence.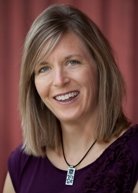 A licensed clinical social worker, Ziegler, 40, worked with hundreds of students in the Lawrence school district during the past 15 years. In 2008, she was hired as a counselor at Free State High School.
"She had a great relationship with all of the kids," Free State principal Ed West said.
The intersection is west of Tee Pee Junction, which is the intersection of U.S. highways 24-40 and 24-59.
Mark Davis, a Union Pacific Railroad spokesman, said the train was carrying coal from Wyoming to East St. Louis, Ill. The train resumed its route about 7 a.m. He said the company was investigating the crash and that it offered counseling and support to the train's crew.
"It's a traumatic incident, in general, and our hearts always go out to the friends and family of the person that was struck," Davis said. "But also to our train crew members because they had to witness a collision. Our message to drivers is always heed the warnings that are there. Those signals mean the same thing, and that's yield the right of way to a train."
On Monday, the Lawrence school district's crisis support team was on hand at Free State as staff and students grieved. Ziegler, who was married, had three children.
"On behalf of the Lawrence Public Schools, I offer our deepest sympathies to Aimee's family," Superintendent Rick Doll said in a written statement. "We are saddened by this loss."
Prior to her work as counselor at Free State, Ziegler helped start and then worked for Bert Nash Community Mental Health Center's WRAP program. WRAP, which stands for Working to Recognize Alternative Possibilities, focuses on bringing mental health services to schools. Ziegler was a WRAP worker at Free State from 1997 to 2004 and at Wakarusa elementary school from 2004 to 2008.
Making sure students got the services they needed was a quality that defined Ziegler's career, Bert Nash CEO David Johnson said.
"It's a big loss for us. It's a loss of a colleague and friend for a lot of staff here," Johnson said.
When Ziegler worked with the WRAP program at Free State, she also spent time as an assistant girls' soccer coach, an assistant girls' basketball coach and an assistant boys' soccer coach at the school.
West said Ziegler's time with the WRAP program provided insight into the lives of at risk-students and children with severe needs. And, her coaching background gave her a unique perspective on athletes.
Despite a counseling case load of several hundred students a year, Ziegler made her students "feel like the most important thing to her," when she met with them one-on-one, West said.
"She was someone who could relate well with kids and was full of life," West said.
Copyright 2018 The Lawrence Journal-World. All rights reserved. This material may not be published, broadcast, rewritten or redistributed. We strive to uphold our values for every story published.