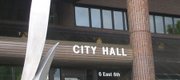 Subscribe to the email edition of Town Talk and we'll deliver you the latest city news and notes every weekday at noon.
News and notes from around town:
• Yesterday I told you that Lawrence experienced a bit of a bounce back in the number of homes built in August. Well, Lawrence Realtors had a bounce back in the number of homes sold during the month. Home sales were up 28 percent in August compared to August 2010, according to statistics from the Lawrence Board of Realtors. The group reports 105 homes were sold during the month. But just like building permits, the numbers for the year-to-date aren't good. Through the first eight months of the year, home sales are down 16 percent from the same period a year ago. Realtors note that 2010 numbers received a significant boost from the first-time home buyers credit offered as part of the federal stimulus package. But this year's numbers are down even from two years ago, when that credit wasn't much of a factor. This year's numbers are down 8.4 percent from two years ago. Particularly important to builders is the number of newly built homes sold. Those numbers are way down. The group reports 48 sales of newly built homes, which is down 40.7 percent from a year ago and down 20 percent from two years ago.
As far as prices go, the Realtors' numbers indicate they're holding steady. The median selling price for this year checks in at $158,000. That's up slightly from $157,500 a year ago. I believe the Douglas County Appraiser's office, however, is seeing some statistics in the data it gathers that indicates falling sale prices. That's creating concern with some government officials that the city's tax base may shrink significantly. More on that another day. What has risen is the amount of time it takes to sell a house. The median days on market is now at 59, up from 39 in 2010 and 44 in 2009.
It is worth noting that August's sales totals mark the second straight month that the market has posted a gain compared to the same month a year ago. So, it will be interesting to see if the Lawrence real estate market is undergoing a year-end rally. That could be very important as the Douglas County appraiser determines the values of property for Jan. 1, 2012.
• Last night just goes to show that you never know what you'll see at Lawrence City Hall. It was a long night at the weekly City Commission meeting as more than two hours worth of public comment was heard regarding the gender identity issue. That wasn't unexpected, but one visual that appeared at the meeting was. One speaker used the city's overhead projector device to show a picture of President Obama that she had altered showing Obama in women's clothing and make-up. The speaker (I'm not trying to hide her identity, but I do need to confirm the spelling on her name before I publish it) asked the question of whether people would have voted for this man if he looked like this. Several in the crowd gasped and City Commissioner Bob Schumm called the speaker's tactic inappropriate. The speaker said her point was that appearance does matter, and that business owners ought to have the right to factor that into their decisions when choosing whom to hire. UPDATE: According to the sign-in sheet at City Hall, her name is Sharla True.)
• Nope, not even going to try create a segue from that to this. City commissioners last night agreed to postpone a decision on a city policy that would allow rates paid to the city's water and sewer utility to be transferred to the city's general fund in an attempt to make up for the fact that public utilities aren't required to pay property taxes. Commissioners didn't set a time to take up that issue again, but City Manager David Corliss said his office would bring it back to commissioners after the public has had enough time to weigh in on the issue. As we noted in the article, a representative with the Lawrence Home Builders Association expressed concerns at the meeting about the policy, and said her group's board would now take a formal position on the issue. We'll see whether any other groups do. I did hear from one leader of a rural water district, which purchases some of its water from the city of Lawrence. He said rural water districts have had concerns about what Lawrence water rates are being used to fund in the city.
"What you would like to see is for the city's water rates to have a direct relationship to the cost to treat the water plus a reasonable mark up," said Scott Schultz, administrator for Rural Water District No. 4 outside of Baldwin. "If there's a thought that the city's mark up is funding non-water related services, that is too bad. It has concerned us, and we have communicated that to the city in negotiations on water prices in the past."
I think many city leaders would argue that the city is appropriately setting its rates, and it is trying to compensate the city's general fund for both the direct and indirect benefits that the utility system receives from the host of services the city provides to everyone — everything from fire protection to parks and recreation services.
But that philosophy has created some interesting comments I've read at LJWorld since we first reported this item. One was this: If the city's philosophy is to receive a payment in lieu of taxes from operations that charge rates and fees like a business but pay no property tax, what about the city's parks and recreation department? That department owns several facilities that it uses to generate fees. Think recreation centers, softball fields, swimming pools and a golf course, for example. Some of those compete directly with private businesses that pay property taxes. I don't know what the taxable property value of the Eagle Bend Golf Course would be, for example, but it would be sizable. Are there other city departments that fall into the same category that charge fees like a business but don't pay property taxes? That would require some thought, which I don't do much of after long City Commission meetings, but it is an interesting discussion.
Copyright 2018 The Lawrence Journal-World. All rights reserved. This material may not be published, broadcast, rewritten or redistributed. We strive to uphold our values for every story published.