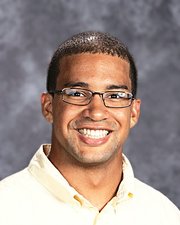 Ian Robinson, a senior at Free State High School, is among 10 students in Kansas and more than 1,600 nationwide named as semifinalists for the National Achievement Scholarship Program, sponsored by the National Merit Scholarship Corp.
Robinson and the others now have the chance to compete for 800 achievement scholarships, together worth more than $2.4 million. The scholarships are available to academically promising black students.
Robinson is the son of Ron and Jeannie Robinson. He is undecided on plans for a college major.
Semifinalists are chosen based on their performance, as juniors, on the PSAT/National Merit Scholarship Qualifying Test. More than 160,000 students took the test.
Copyright 2018 The Lawrence Journal-World. All rights reserved. This material may not be published, broadcast, rewritten or redistributed. We strive to uphold our values for every story published.