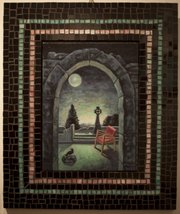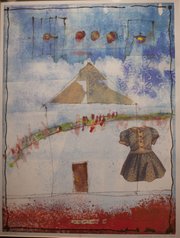 When Connie Ehrlich was diagnosed with breast cancer, first came the shock. No one in her family had breast cancer. She was only in her mid-40s. She was otherwise healthy. How could it be that she had cancer?
But there it was, straight from a nurse's lips, at closing time before the long July 4th weekend: stage 2 ductal carcinoma in-situ, high grade.
Once the shock had settled in and the treatment plan ensued, Ehrlich leaned on her family, friends and her art. A longtime painter, Ehrlich found herself using brush strokes to express feelings she couldn't get out in words alone.
"I kept notes and stuff and I kind of used those and just ... the feelings just poured out of me," says the Lawrence artist, who worked on paintings and monoprints during the time. "The paintings are more moody, kind of mysterious pieces. But the monoprints are more defined on having cancer."
Now, Ehrlich and her art of expression are featured in "Self-Examination" an exhibit that opened Tuesday at The Lawrence Art Guild's space, 1109 Gallery, 1109 Mass. Ehrlich will speak during a reception held in conjunction with September's Final Fridays festivities — 7 to 9 p.m., Sept. 30.
Ehrlich's works are featured in the garage gallery, while the rest of the gallery is filled with thoughts and impressions by more than 30 artists. Included are 21 plaster busts that have been decorated by local talent and will be sold with all proceeds going to a breast cancer patient's medical expenses. "Self-Examination" runs through October — National Breast Cancer Awareness Month — and beyond, ending Nov. 20.
Linda Baranski, director of the gallery, says the works are moving, personal and educational — and sure to help those in need in the same way that other fund-raising shows have in the past at the gallery.
"We try to do a couple of shows a year that help other organizations in the community," says Baranski, noting the gallery has raised funds and exposure for the Lawrence Humane Society and the Douglas County AIDS Project. "We decided this year we wanted to do something for Breast Cancer Awareness Month."
Baranski approached Ehrlich, who was working on the pieces at the time, and the two cooked up the exhibit so that it might have a benefit angle.
With the show finally up, Ehrlich, who will be a year in remission in December, says that she's thrilled for the opportunity to share work that she knows will resonate with anyone touched by cancer.
"It was a shock, but it helped to inspire my art," Ehrlich says. "I don't look at it as a blessing, but as something you live through and learn from, if you can."
Copyright 2017 The Lawrence Journal-World. All rights reserved. This material may not be published, broadcast, rewritten or redistributed. We strive to uphold our values for every story published.