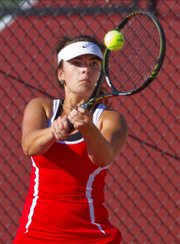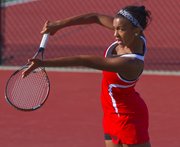 The Lawrence High School girls tennis team lost a dual against Manhattan High, 8-1, Thursday at the Lawrence Tennis Center.
The Lions were led by No. 3 singles player Abby Gillam, who defeated Manhattan's Anne Hodges, 8-5.
LHS coach Chris Marshall praised Gillam's aggressiveness in her match.
Gillam was the only LHS player to win a match in singles or doubles play, but Marshall said he was proud of the progress the team made since its meet on Monday.
"We played a lot of good points, and a lot of those games went to deuce, so overall, I'm pleased. Even though it doesn't look like we played that well, we did," Marshall said.
LHS will play at Shawnee Mission East in the Sunflower League meet on Tuesday at Harmon Park.
Copyright 2018 The Lawrence Journal-World. All rights reserved. This material may not be published, broadcast, rewritten or redistributed. We strive to uphold our values for every story published.