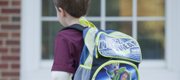 Subscribe to the email edition of First Bell and we'll deliver you the latest local education news and notes every weekday at noon.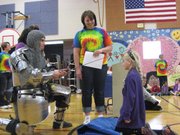 Here ye, hear ye.
Rose Morland, third-grader, is now Knight of New York Elementary.
Rose joins nine of her schoolmates who rightfully can gather at their own round table, now that they've been knighted by "Sir Julian," a knight in shining armor portrayed by Sam Lane from Kansas City.
The student honors came last week during the school's Character Counts Assembly.
Students were nominated for the prestigious standing by their teachers, in recognition of six "Pillars of Character": trustworthiness, respect, responsibility, fairness, caring and citizenship.
Students honored during such assemblies typically receive glow sticks, considered mini versions of the lightsabers used by Jedi Knights in the "Star Wars" movies. The school's mascot is the Knight.
Friday's assembly went medieval: The ceremony included Sir Julian touching each new knight on each shoulder and the head, and eliciting a promise that each knight would live up to the ideals that carry such a title: being trustworthy, honest, respectful, responsible, fair and showing good citizenship.
Other students knighted Friday:
• Milo Bitters, grade 1.
• Blue Brooks-O'Leary, grade 5.
• Antonette Carrillo, grade 4.
• Andre Davis, kindergarten.
• Trey Rockhold, grade 5.
• Rhea Scott, grade 2.
• Kyun Tate, grade 1.
• Mason Tyrell, grade 2.
• Keaten Tyrell, kindergarten.
•••
U.S. Sen. Jerry Moran, R-Kan., is accepting applications for nominations for appointments to U.S. service academies, and a 20-member Service Academy Selection Board will help him choose whose names he should forward to the U.S. Military Academy, U.S. Naval Academy, U.S. Air Force Academy and U.S. Merchant Marine Academy.
Moran will accept applications through Oct. 1, with applicants required to interview with the board Nov. 19. Recommendations then will be forwarded to Moran to make decisions.
If nominated, applicants then must meet the admission requirements of the particular academy. Students selected will enter the academies in June 2012.
Among the 20 board members is Steve Hawley, a Lawrence resident and former astronaut who is director of the Engineering Physics program at Kansas University.
Interested applicants may request application materials from Moran.Senate.gov, under the "Services" menu, or by calling (917) 393-0711.
•••
Another deadline is approaching: this one for entries into the Future City competition, which has regional and national contests for middle schoolers in engineering.
Schools interested in fielding teams have until Oct. 31 to enter. Last year, teams from three junior highs in the Lawrence school district entered: Central, Southwest and West.
The competitions are part of a national program that invites sixth-, seventh- and eighth-graders -graders to "design a method of providing electricity for a future city using an energy source that does not deplete natural resources and has limited impact on the environment."
Students will start with a research essay describing their concept, which this year is themed, "Fuel Your Future: Imagine New Ways to Meet our Energy Needs and Maintain a Healthy Planet."
Organizers say that as students envision new ways to produce electric power, they will identify the benefits and risks of their energy source solutions and provide suggestions on how to minimize the risks that their solutions present. Participating students will use SimCity 4 Deluxe software to design a virtual Future City model incorporating their ideas; next, they create a physical model — using recycled materials — that can cost no more than $100 to build.
For more information, visit EWeek.org.
Copyright 2018 The Lawrence Journal-World. All rights reserved. This material may not be published, broadcast, rewritten or redistributed. We strive to uphold our values for every story published.