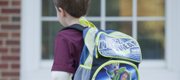 Subscribe to the email edition of First Bell and we'll deliver you the latest local education news and notes every weekday at noon.
Volunteers are doing all the decision-making work as members of the Central and East Lawrence Elementary School Consolidation Working Group, but paid consultants will be helping provide support for their deliberations.
The group's 26 voting members, plus a chairman and seven nonvoting advisers, all are participating at the request of the Lawrence school district and its elected members of the Lawrence school board. All are volunteers, charged with determining the best way to trim a list of six elementary schools — Cordley, Hillcrest, Kennedy, New York, Pinckney and Sunset Hill — into three or four within the next two to three years.
Monday night, Superintendent Rick Doll informed group members that the district would be hiring RSP & Associates, a group from the Kansas City area, to provide detailed, accurate information about where students live in relation to school locations, and to provide projections about future enrollment and how boundary changes might affect schools.
The firm also will provide detailed demographic information about students, to assist working group members as they weigh effects on students who receive free or reduced-price lunches, who take part in English as a Second Language programs, or who are members of other categories deemed significant during discussions.
"We're going to have some very clear data," Doll said, after Monday night's meeting. "It's very important to have objective data. People talk about credibility and transparency. This is a way to make sure that any (potential, or eventual) boundary changes are credible and transparent."
No formal agreement has been worked out yet, Doll said, so the final cost of the services has not yet been determined. RSP & Associates had performed such duties for the district until cut from the budget a couple years ago.
•••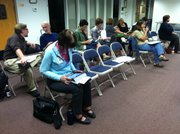 Meetings of the Central and East Lawrence Elementary School Consolidation Working Group always attract an audience, and Monday night's included several district employees with plenty of interest in the proceedings.
Among the attendees were principals for elementary schools being considered for consolidation:
• Cris Anderson, of Kennedy.
• Chris Bay, of Sunset Hill.
• Tammy Becker, of Hillcrest.
• Nancy DeGarmo, of New York.
• Lesa Frantz, of Pinckney.
Also in the audience was Jeanne Fridell, principal of Woodlawn, a school that is not up for consolidation but has representatives on the working group.
•••
Another note about the principals in the audience: While members of the working group discussed their processes for approaching consolidation issues, the principals were busy working on their laptops, iPads and other electronic devices.
Turns out two hours on wireless at district headquarters is a bit of a breather.
"During the day, if you're going to be accessible to students, teachers and parents, there has to be another time to get to the hundreds of emails, and that usually happens after hours," said Chris Bay, churning through his inbox as members of the working group mulled the important characteristics and qualities of a good elementary school. "We can multitask. We can listen and answer some emails."
Copyright 2017 The Lawrence Journal-World. All rights reserved. This material may not be published, broadcast, rewritten or redistributed. We strive to uphold our values for every story published.